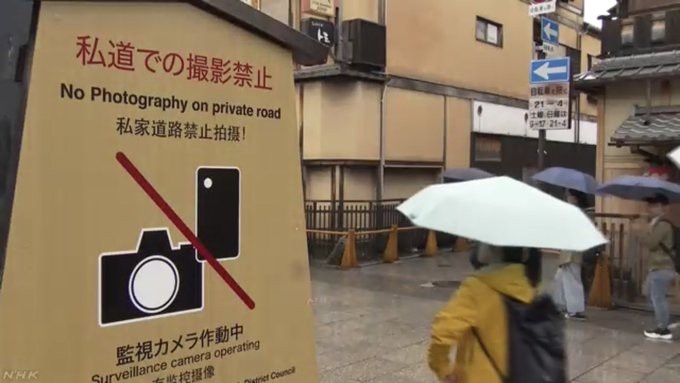 JAPAN: If you take photos of a geisha or a private house … in Gion Old Town without permission, visitors will be fined 10,000 yen (about 2.1 million).
The number of tourists coming to Gion old town is increasing day by day, especially Hanamikoji street because this is the most geisha place in Japan. Most tourists hold cameras to get ready to hunt for geisha and maiko on the street. This has a significant impact on the lives of local people. Therefore, recently a group of indigenous people voted to ban photography in the streets and private homes of residents in Gion. The regulation was adopted and started to apply from October 25. Visitors who intentionally circumvent the law will be fined.
According to NHK, many tourists come to Kyoto because they love the beauty and long history of the ancient capital of Japan. However, many people behave poorly in spite of looking for geisha – a cultural characteristic of Phu Tang. Recently, many complaints from locals about tourists deliberately photographed geisha without permission, lack of respect, even in some cases chased women wearing kimono on the street, dragging their clothes for the wrong geisha. Therefore, this rule was born and if you travel to Kyoto, you need to pay attention to the forbidden sign on the street, avoiding trouble.
In 2017, Kyoto released an English guide on how to behave politely when visiting a city, accompanied by a list of activities that tourists could be fined, including smoking in public places and cycling. when drunk. This is not the only city in Japan that must find a way to deal with the "side effects" of tourism development. Earlier, the city of Kamakura famous for its giant Buddha had erected signs that prohibited visitors from eating when walking because of the amount of garbage from visitors. Also, for Japanese people, walking and eating are considered impolite.