Japan is a beautiful country with very unique cultural features. And especially, this country has a huge love for animals. The evidence is that there are many cafes where diners can enjoy drinks and play with lovely animals.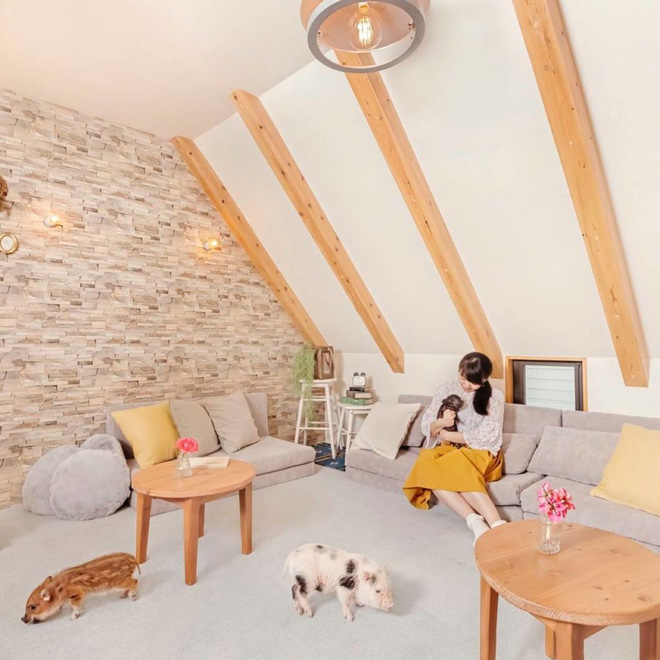 The cafe consisted of little pigs coming in for a cup of tea
For a long time, stories in Japan with cute animal cafes like cat cafe, dog cafe, hedgehog cafe, even owl bird cafe have become familiar. I thought there was no longer any strange pet beverage business idea, but suddenly, in the middle of the most modern Tokyo in the world, there was a lovely lovely coffee shop – piggy cafe.
The name of this unique cafe is Mipig Cafe. It opened in Meguro, Tokyo in March this year and received a lot of support. When you come here, everyone is overwhelmed with a world full of tiny pigs.
They are tiny, so much so that they can slip into a cup of tea, making you "most biased love" immediately, want to pick up and cuddle immediately.
Super tiny because it's still "childish"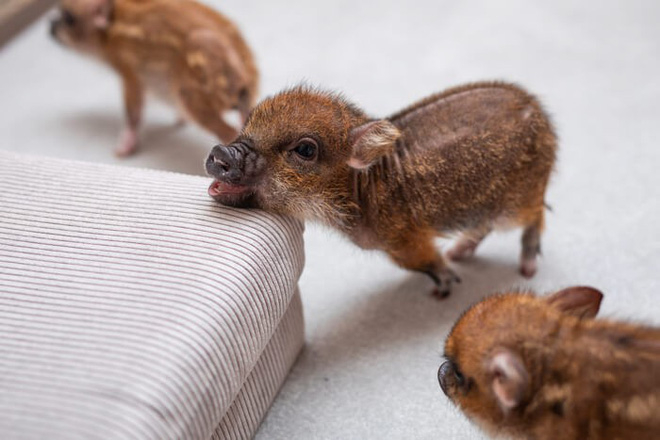 In fact, the piglets of Mipig Cafe do not originate from Japan but forever into Europe, in the United Kingdom. Because of their small size, they are also called micro pigs or teacup pigs.
The thing is, these super tiny pigs are not always so tiny. They just left the cup of tea when they were still piglets. Over time, the tiny pig will mature. It may not be as big as the dogs you usually see, but it is impossible to fit in a cup of tea.
In both the United Kingdom and the United States, micro pigs are a familiar type of pet, very popular with celebrities. If you notice, you will see superstar Paris Hilton (USA) many times hugging your pig on the red carpet. And Ariana Grande (American singer) often put Piggy Smallz, his beloved uncle in the music video.
But in Japan, micro pigs are not the most common type of pet. So opening a tiny pig cafe in the heart of the crowded Tokyo metropolis is really a smart business tactic. It has just hit the psychology of animal likes of people, and at the same time "unique", not "in touch" with the type of pet cafe which is rife throughout the land of cherry blossoms.
Unexpected success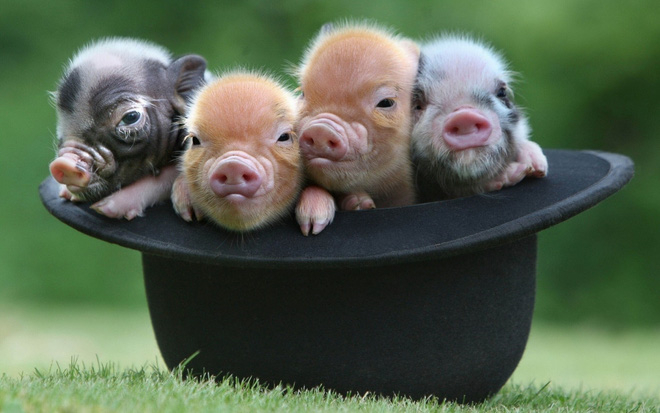 To start Mipig Cafe, a few Japanese businessmen who have the same idea put their piggy cafe project on Camp-Fire, a crowdfunding website. They hope to get about 2 million yen in investment, but eventually get twice as much.
"We want Japanese people to get used to this type of pet, eventually to see them as a beloved member of the family," Mipig said.
Very soon after their tiny pig cafe project went into operation, visitors were "cut down". "Their noses are cool, but their bodies are warm. How adorable!" – one customer happily recounted.