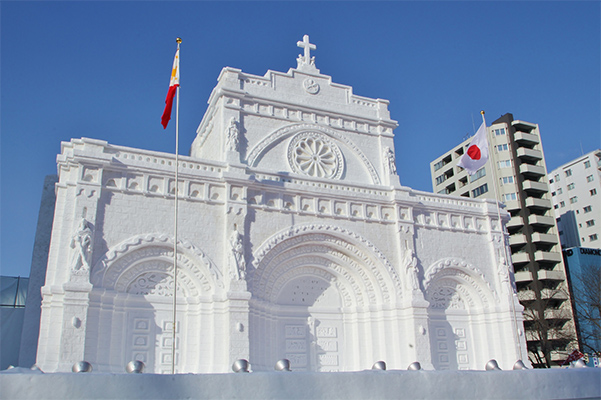 In 1950, students in Hokkaido used the most abundant natural resources in Sapporo as "snow", combined with imagination to create snow sculptures at Odori Park. This is the origin of the "Sapporo Snow Festival" – one of the winter events that attracts millions of people to attend every year. Come and experience Hokkaido's hospitality, culinary specialties and incredible light shows!
When the artist "blew soul" into the snow
The official event only takes place for a week at the beginning of February, but teams from Japan and around the world have begun to gather here and produce works from the previous month. You will definitely see the magic by observing the implementation process until it is completed. And remember to bring a pair of empty skates, or buy anti-slip soles attached to shoes at convenience stores.
Scale and "terrible" numbers
They had a daring thought when performing this festival in Sapporo: the area east of Odori Park is expected to be an exhibition venue displaying 4 to 5 giant statues the size of a building, along with A series of smaller works. In contrast, the western corner will be an area for snow sculpting teams from 20 countries to compete.
The night light shows
Don't leave the festival before it gets dark, because you'll be sorry to miss the opportunity to watch the amazing light shows on huge snow statues. The performance will start as soon as it gets dark, each lasting about 5-10 minutes. The surrounding large trees are decorated to suit the overall view, and the works everywhere in the park are also lit.
More interesting things to discover at the festival
If you are an athlete, head to the Tsudome area to experience skiing with large runways, drive in the snow or take part in a snowball battle! After you're tired, you can enjoy some warm drinks at the ice bar at the Susukino hall, and try the ice sculpting contest if you like. Don't forget to bring a camera with you to this festival, but if you don't? Don't worry, there are always professional photographers ready to serve you at a reasonable cost.
Head to the Tsudome ski area
Besides the competition …
You can watch the beautiful ice sculptures illuminated, stretching all the way from Susukino Station to Nakajima Park. Besides, there are small bars made of ice serving convenient drinks for you to enjoy and walk around the statues.
Eat, drink and be wrapped in a "festive atmosphere" to take home
Enjoying local specialties, seafood and meat from all parts of Hokkaido gathered at the festival, as well as the restaurant's famous dishes here is also a pleasure you cannot miss. Try a glass of hot wine, and if it's still cold, the tents or rooms around the food stalls are ready to welcome you in for heating. In addition, there are many souvenirs, toys, t-shirts and postcards of the festival.