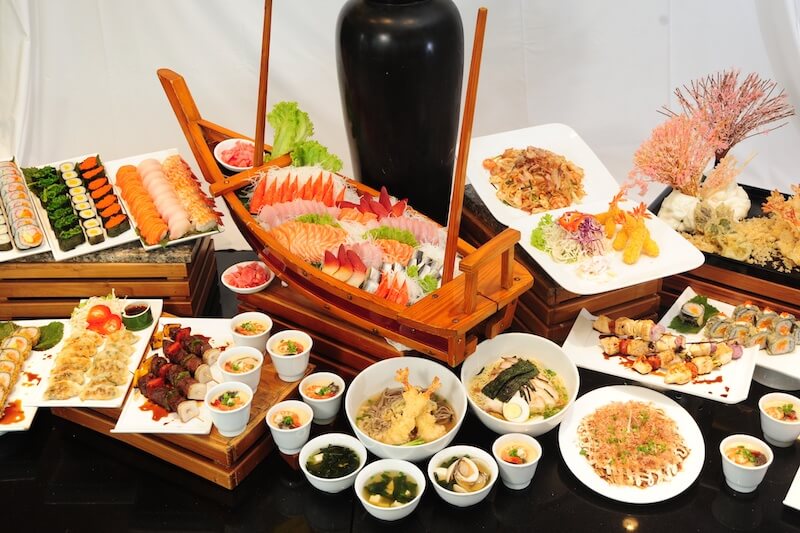 MAKI: (ROLLED SUSHI)
The word "maki" in Japanese means "roll", so maki sushi means "rolled sushi". This is a classic sushi that is often mentioned first: many ingredients are placed on a layer of rice, the outermost piece of seaweed and rolled tightly.
HOSO-MAKI (SUSHI "GUN")
This type of rice rolls consists of only 1-2 types of ingredients, the most popular being salmon, tuna, cucumber, carrot, avocado; and roll in half a sheet of seaweed
FUTO-MAKI (SUSHI "SUSHI")
This type usually has more than 2 types of ingredients with different colors or complementary flavors and rolled with whole seaweed sheets.
NIGIRI (SUSHI HOLDING)
URA-MAKI / CALIFORNIA ROLL / INSIDE OUT ROLL – (SUSHI ROLL OUT)
In this case, the rice is rolled outside the piece of seaweed and garnished with sesame or fish eggs.
TEMAKI
Sushi cone with seaweed roll outside, rice inside and ingredients will be revealed to look very attractive
CHIRASHI
Chirashi is a very easy sushi to prepare: All you need is a bowl of rice and arrange all kinds of fish, fried eggs, seafood or other ingredients on top. There is no specific formula for Chirashi; The arrangement depends on your personal preferences.
GUNKAN
Gunkan means ship. This sushi has a piece of rice surrounded by seaweed leaves, decorated with various ingredients such as salmon eggs.
INARI
Rice and other ingredients like vegetables and other ingredients are stuffed inside a "bag" of fried tofu.
SASHIMI
We can argue that sashimi is not real sushi because sashimi is the way to call the thin slices of raw fish served with wasabi and soy sauce. But almost all sushi menus have sashimi.