Kisune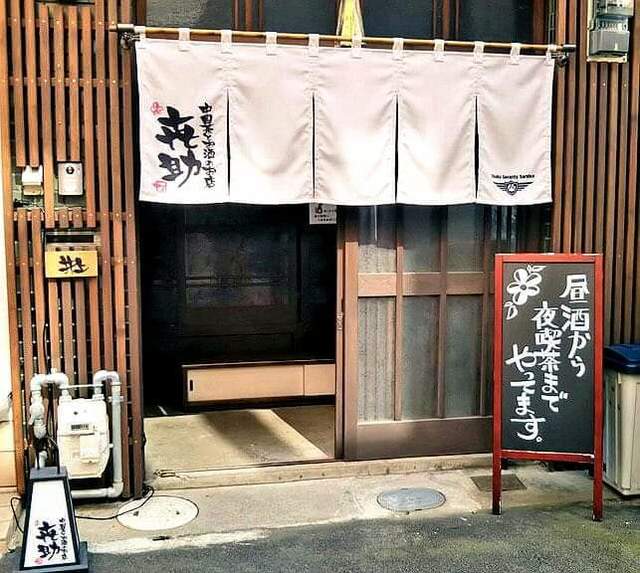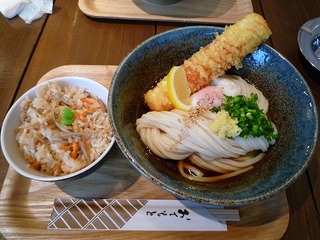 Kisuke is a popular udon (thick noodles) restaurant located in Osaka's Umeda district, which is known as a highly competitive area for Sanuki udon restaurants. Their homemade, thick noodles with a distinct sweetness of wheat possess an impressive kind of elasticity. Eaten with the mild soup broth, you are sure to polish off the regular, 400g serving of noodles in a blink of an eye. Their signature dish is the Tai Chikuwaten to Onsen Tamago no Bukkake (udon dish of sea bream cake tempura and soft-boiled egg with broth poured over the ingredients). The best way to eat it is to coat the springy noodles in egg, take a big bite, and then fill your mouth with the fried sea bream paste cake that is crispy on the outside and fluffy on the inside. This restaurant closes as soon as they run out of their homemade noodles, so try and get there early.
Address: Coop Nomura Umeda A 1F, 4-1 Tsuruno-cho, Kita-ku, Osaka-shi, Osaka
Kadoyashokudo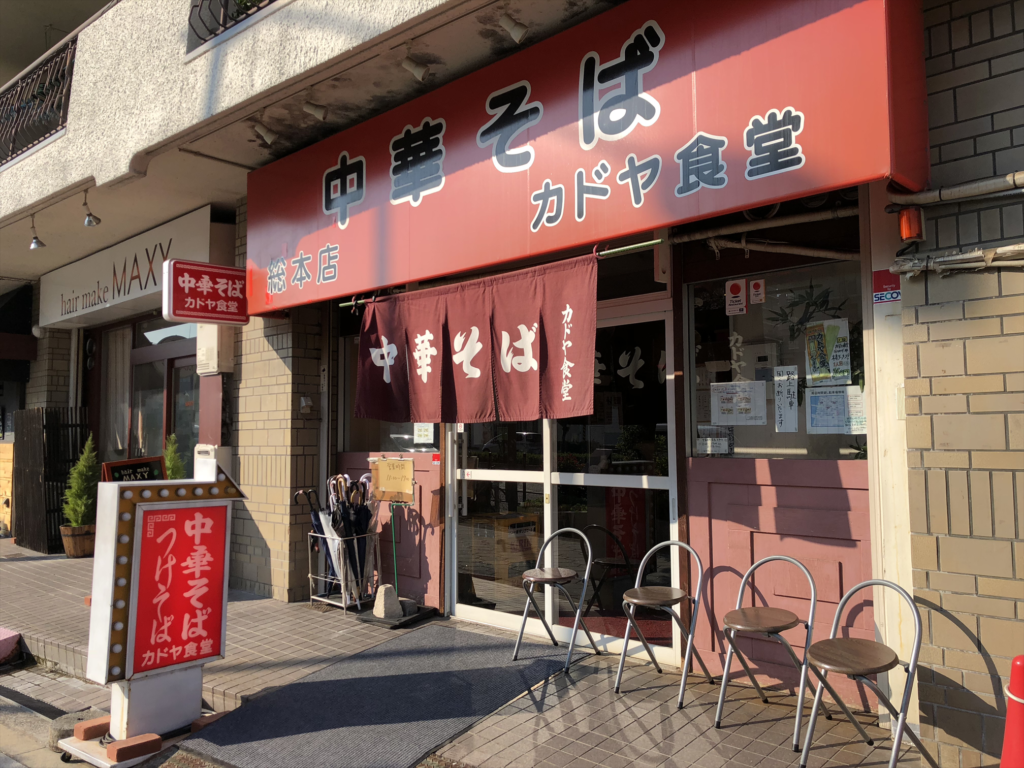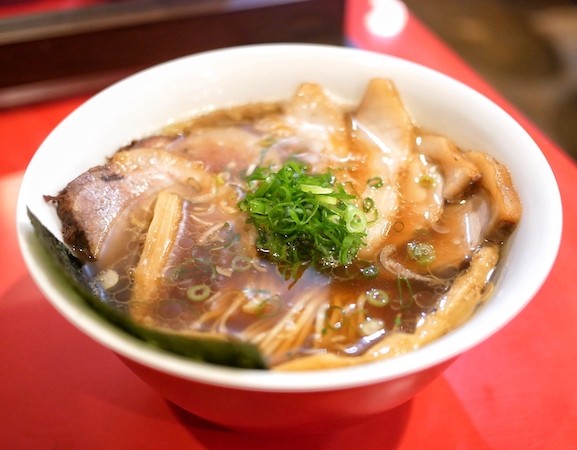 Kadoyashokudo is a ramen shop that is on the Michelin Guide's Bib Gourmand list. The flat and straight noodles made in the restaurant's noodle making area using 100% domestically grown wheat are characterized by their elasticity and smooth texture. This restaurant's popular Chuka Soba (Chinese noodles) (850 JPY (incl. tax)) has chicken bone and pork based soup with a strong flavor of seafood, soy sauce and salt that draws out the delicious flavors of the homemade noodles. For meat lovers out there, it would be best to add Char Siu (roasted pork fillet) (1,000 JPY) as an additional topping. It may be more expensive than the ramen itself, but note that it is a famous dish using Kagoshima's Black pork, and is a superb item overflowing with delicious flavors of the meat. Try it with the soup that is characterized by a robust taste of aromatic soy sauce.
Address: 4-16-13 Shin-machi, Nishi-ku, Osaka-shi, Osaka
Jiyuken Namba Main Shop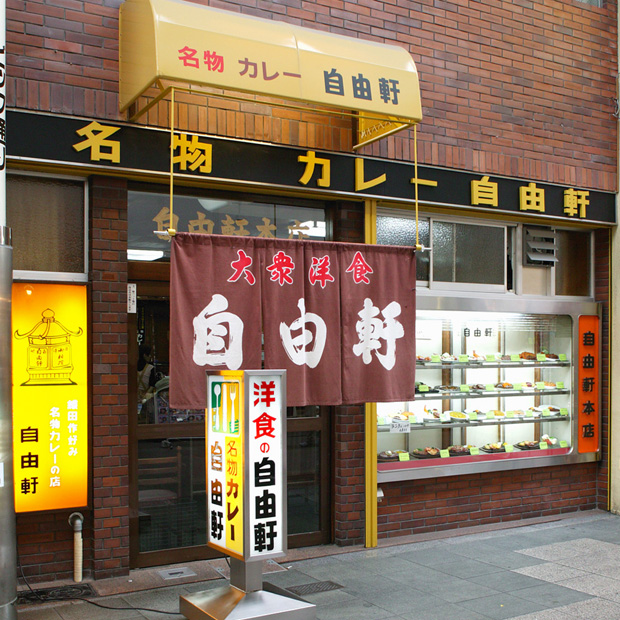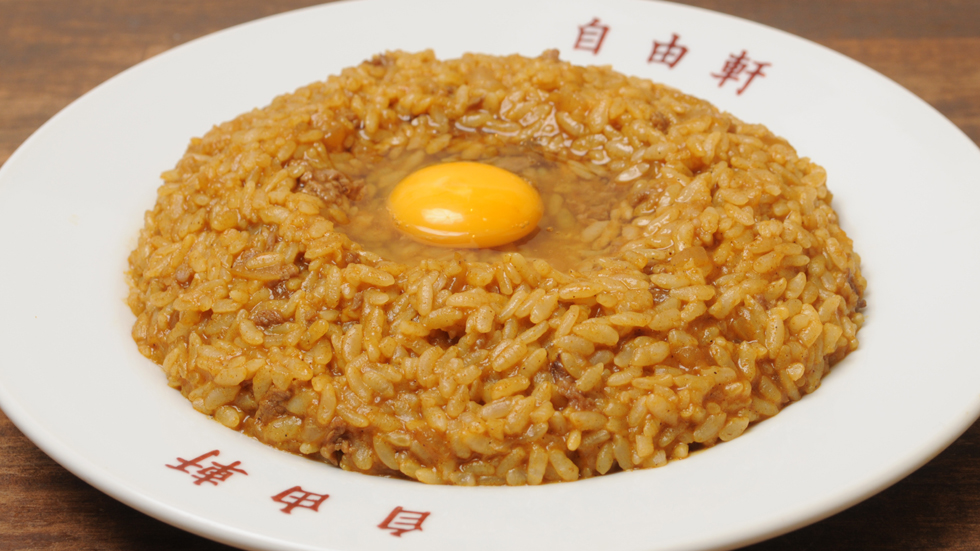 Opened in 1910, Jiyuken was the first Western cuisine restaurant to open in Osaka. Their signature dish, Meibutsu Curry (750 JPY (incl. tax)), is made by the same method that they've been using since the foundation of the restaurant, and continues to be loved by customers to this day. The dish was developed in an effort to serve piping hot curry to customers in the days when they had no means to keep the rice warm. In order to achieve this, they mixed the hot curry with the rice. Make sure to stir the raw egg topping into the sauce before you eat this curry. The combination of the spicy curry and the sweetness of the egg and rice is simply exquisite. You are sure to get hooked!
Kiji Main Shop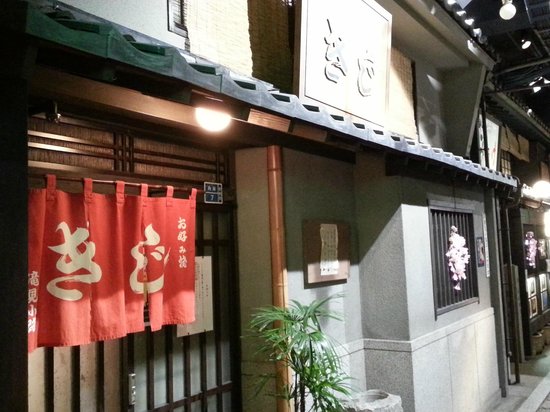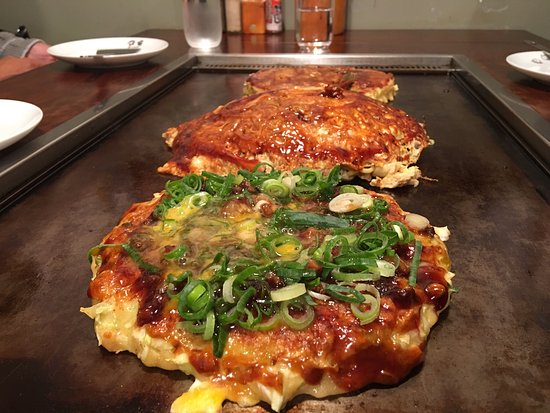 Kiji is an okonomiyaki (savory pancake) restaurant located in Shin-Umeda Shokudogai, a commercial area packed with about 100 eating and drinking joints, and is known for always having a queue of customers outside their doors. It is a famous restaurant that is featured in the Michelin Guide. Its specialty dish, the Modanyaki, is a dish in which yakisoba (fried noodles) with squid and pork is cooked with an egg and broth, until the egg is half-cooked. The umami of the slightly thick noodles coated in runny egg and sauce is out of this world. If you sit at one of the counter seats, you will get to see the staff making the okonomiyaki right in front of you. Enjoy the time until your food is ready by listening to the sounds of the spatula against the iron plate and the sizzling of the okonomiyaki as it cooks.
Address: Shin-Umeda Shokudogai, 9-20 Kakuda-cho, Kita-ku, Osaka-shi, Osaka
Indian Curry Sanban-gai Branch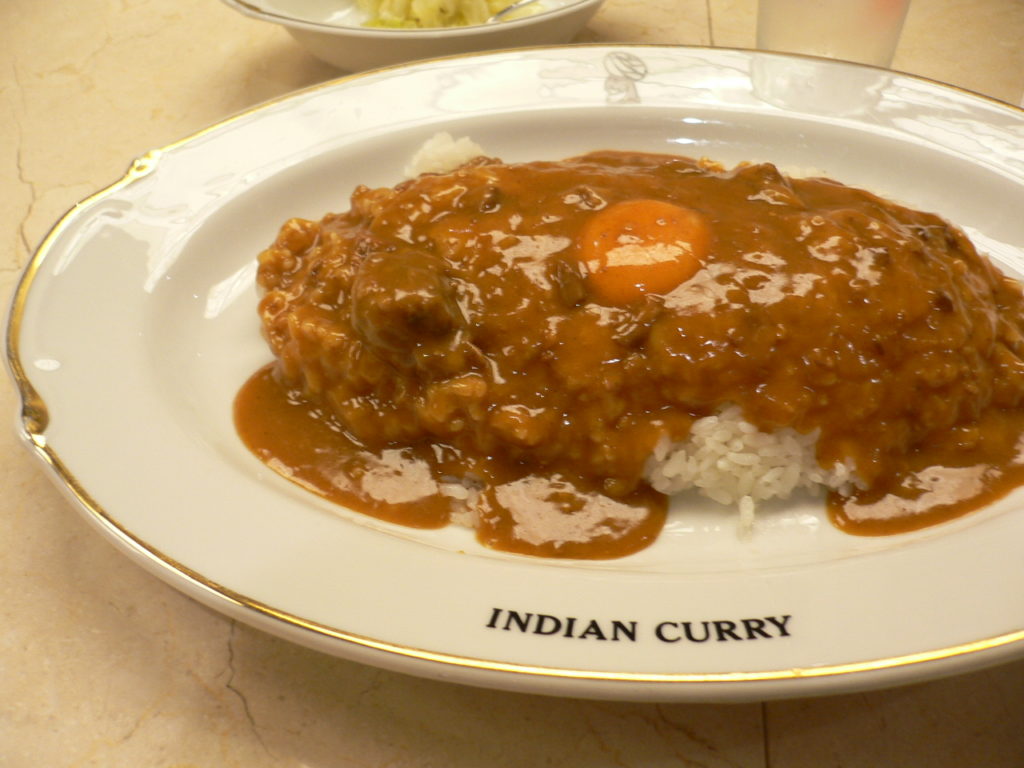 Indian Curry is a restaurant that was made popular by their distinctive curry that has remained unchanged in taste since the restaurant opened in 1947. When you take a bite of their famous Indian Curry (750 JPY (incl. tax)), you will taste a sweetness first, which is soon overpowered by a spiciness coursing through your mouth. It's so spicy that there are people who describe their mouth as being on fire. Refresh your palate with the accompanying pickled cabbage. Putting a raw egg on top of the curry will also make it taste a little milder. You might think that it is not worth the ordeal, but for some reason, you will find yourself wanting more.
Address: 1-1-3 Shibata, Kita-ku, Osaka-shi, Osaka
Cret: https://wow-j.com/