If you are traveling with Shinkansen, enjoy some "Ekiben". Ekiben are available at stations and you get to enjoy local ingredients and famous dishes in a lunchbox. So have fun choosing which one you like. "Food Town Osaka" has a line up of unique ekibens.
"Hakkaku Bento" by Suiryoken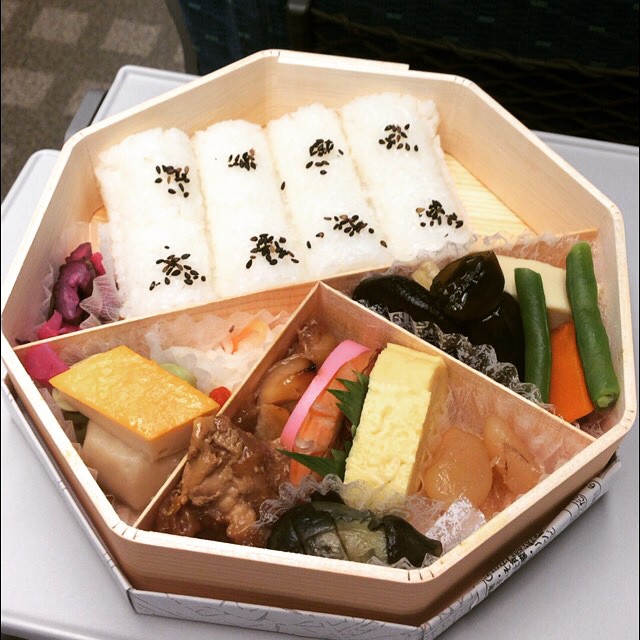 One of the historical ekiben available at Shin Osaka station is this "Hakkaku Bento". As many as 17 delis including those broiled and grilled are packed in a good balance in an octagonal container. Each deli is cooked very carefully in "Kansai style" seasonings that bring out natural flavors of stock and ingredients. Put their exclusive "Koya Dofu (dried tofu)" in your mouth and you will know how juicy it is absorbing all the good stock. Their rice is made in a way it is still good when cold. With this ekiben, don't rush to finish it, but take each bite slowly to enjoy every bite of it.
Address: Shin Osaka station, 5-16-1 Nishi Nakajima, Yodogawa-ku, Osaka City
"Hippari-dako Meshi" by Awajiya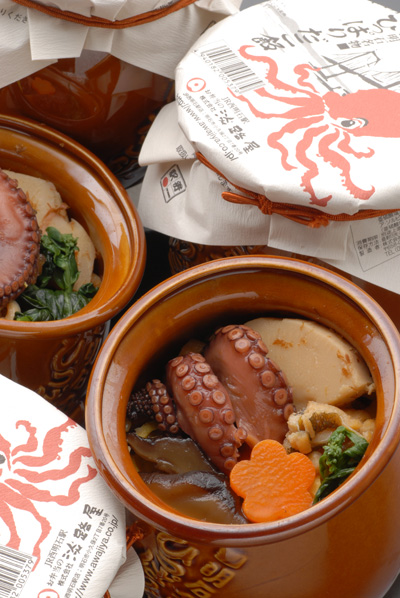 This bento, "Hippari-dako Meshi" was born in 1988 to celebrate a successful completion of Akashi-Kaikyo bridge to connect Kobe City and Awaji-City both in Hyogo prefecture. Since then, this ekiben has been very popular. At a first glance, you will be surprised at its appearance. A ceramic jar is packed with boiled octopus, conger eels and vegetables. Under these delis, you will find flavored rice (with stock and soy sauce). Once you start eating, its volume is bigger than how it looks. If you find yourself not wanting to get rid of the container after a meal, it may be a good idea to clean it thoroughly and take it home as a souvenir (1,000 JPY with tax).
Address: Shin Osaka station, 5-16-1 Nishi Nakajima, Yodogawa-ku, Osaka City
"Tako-Musu" by Kakisen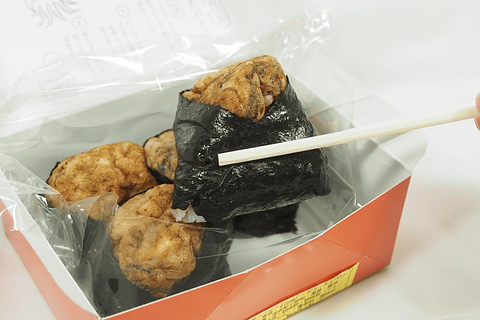 One of delicacies we recommend you to try in Osaka is "Takoyaki". This ekiben, "Takomusu" is a combination of takoyaki and Omusubi (onigiri rice balls). On top of bite size omusubi there is one takoyaki. They are seasoned not with sauce but with soy sauce that also goes well with the rice. A package will also come with some mayo, so it is also a good idea to use that. You may be wondering how well cold rice tastes, but ekibens are known for their rice tasting delicious even when they are cold. The combination of chewy takoyaki and rice is extraordinary. If you become one of those people who forget to eat takoyaki while in Osaka, try this takomusu instead (700 JPY with tax for 5).
Address: Shin Osaka station, 5-16-1 Nishi Nakajima, Yodogawa-ku, Osaka City
"Rosu-katsu (loin-cutlet) Sandwich" by Daruma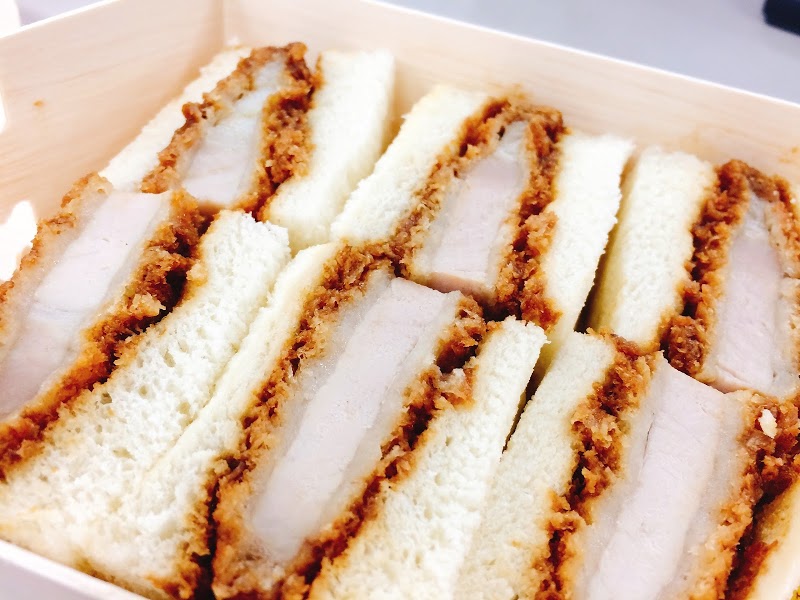 This is a "Rosu-katsu sandwich" made by a famous Kushi-katsu restaurant in Osaka. For this sandwich, they use the same secret sauce that they use for their kushi-katsu (deep-fried meat and vegetables in sticks), and they also use only selected bread and rosu-katsu (fried pork loin). It may be hard to control your appetite when you see thick slices of meat sandwiched between slices of bread. Since they are cut into bite sizes, it is easy for anyone to enjoy them. We recommend you to really savor their exclusive sauce that are well absorbed not only by the meat but also by the bread. A perfect ekiben when you want to enjoy flavors of famous restaurant quickly and easily.
Address : Shin Osaka station, 5-16-1 Nishi Nakajima, Yodogawa-ku, Osaka City
Kinki Ajimeguri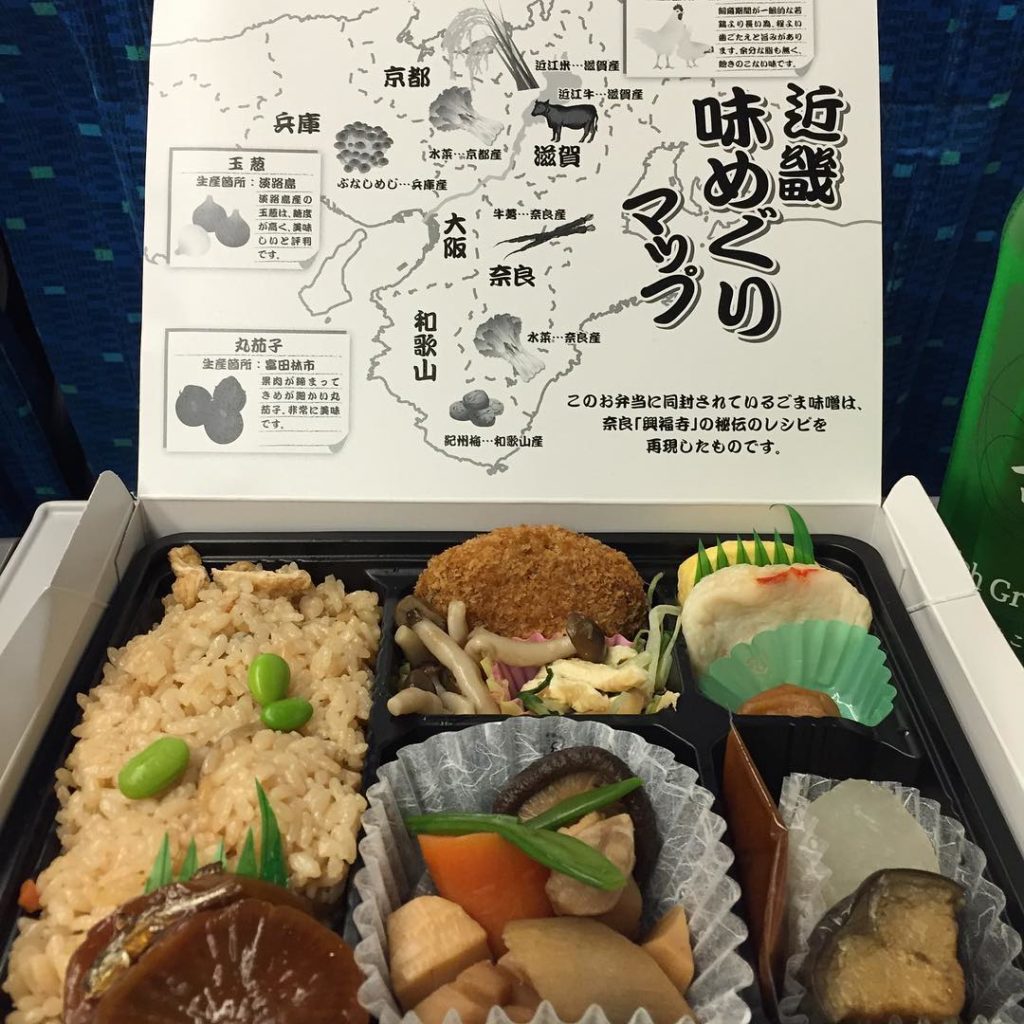 Kansai has many specialties including vegetables and many famous beef brands. You can enjoy such local food with this boxed meal. Most of the ingredients used are local products such as beef and chicken from Shiga and eggplant from Osaka. The illustrated map on the inner lid shows you which product comes from which area. This box offers you the unique experience of the food culture in the region. You can find it at several bento stalls and shops inside the ticket gates and for 980 yen.
Address : 5-chome Nishinakajima, Yodogawa-ku, Osaka-shi, Osaka
Cre: https://wow-j.com/en/ and internet.