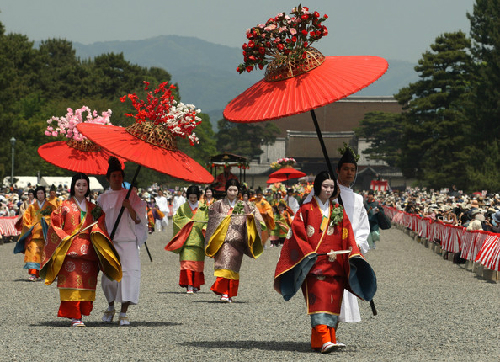 Spring in Japan starts from the first days of March until the end of May, when spring comes, the flowers are covered with beautiful rainbow wings with many colors and shapes. Many flower festivals are held everywhere with different riches and diversity.
March 1 – 14: Omizutori Ceremony, also known as Taking Water Festival at Todaiji Temple, Nara. A solemn ceremony was performed in the flickering light of a burning torch on the night of the 12th.
March 3: Hinamatsuri Festival or Doll Festival all over the country. The festival is held at home for girls to decorate and display toy dolls.
March 15: The Otaue Festival of Kasuga Shrine in Nara performs a 1,000-year classic dance.
Mid-March (15 days): Second Sumo tournament in Osaka.
April 1-30: Miyako Odori or Spring Dance in Kyoto. This Japanese dance performed by the dancers is "Maiko".
April 8: The Hana Festival, also known as the Flower Festival, is celebrated in all Buddhist temples in order to celebrate Buddha's birth.
April 14-15: The Hie Shrine's Takayama Festival in Takayama with brightly decorated procession cars parades through the streets.
April 16-17: The Yayoi Festival of Futarasan Temple in Nikko features outstandingly decorated mobile temples.
May 3-4: Hakata Dontaku Festival in Fukuoka with a parade of legendary gods on horseback.
May 3-5: Hamamatsu Flying Festival in Hamamatsu. The opponent will fly very large kites and try to cut the opponent's kite string.
May 5: National Children's Day Famous for a series of colorful lanterns fluttering in the wind.
May 11: Cormorant fishing on Nagara River, Gifu (until October 15).
May 15: Aoi Festival, also known as Hollyhock Festival in Kyoto, is famous for its magnificent procession.
Mid-May (15 days): Sumo match 3 in Tokyo.
Mid-May: Kanda Festival of Kanda Myojin Temple in Tokyo (held on odd-numbered years) Many portable Mikoshi shrines take part in the parade.
May 17-18: The large Toshogu Temple Festival in Nikko features a spectacular parade of more than 1,000 men dressed as warriors.
3rd Sunday in May: Mifune Festival on Oi River in Kyoto especially with old boat parade.
Friday, Saturday and Sunday, May 3: The Sanja Matsuri of Asakusa Kannon Temple is a parade of three large portable temples with more than 100 smaller temples.