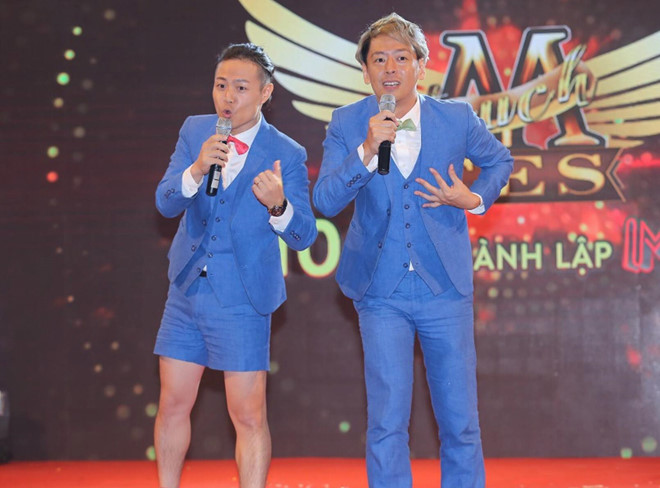 Double Wish is currently the only Japanese comedy group active in Vietnam. Those two "unique" words are both motivational and pride but also bring pressure and burden on Double Wish's path.
Choosing to follow the art path has never been easy, choosing to be a comedian is difficult because success or failure depends on the smile of the audience. But the two men Ide Kazuhiro (Kazu) and Nakagawa Shinsuke (Shinsuke) of the comedy group Double Wish have taken a more difficult path than that – Japanese comedian but career development in Vietnam

The road is full of hardships
Double Wish came to Vietnam in 2015
Kazu and Shinsuke came to Vietnam in June 2015 under the project "Artists living in Asia" organized by MCIP Holdings, invested by 7 companies such as Yoshimoto Kogyo and Dentsu, … The program consists of 11 groups with a total of 15 people operating in 6 countries, besides Vietnam, there are countries such as Indonesia, Thailand, Taiwan, Philippines, Malaysia. The artists involved in the project will develop their careers in the country they come to, learn the local language, perform comedies and attract the admiration of the indigenous people.

Duyen came to be a comedian of two members of Double Wish which is completely different. Initially, Shinsuke was an MC, but then he attended and graduated from NSC Tokyo, where he trained comedian under Yoshimoto company and started acting. For Kazu, the story of becoming a comedian was a sudden turn of his life, because before that, he was a stylist in Tokyo. Originally from Kumamoto Prefecture, the two were close friends before forming a comedy group in 2008.

As for Kazu, the work of a stylist attached to him in the early years of his career.
When still active in his home town of Japan, Double Wish encountered many difficulties. Japanese comedy is a fiercely competitive society. The two worked part-time at a coffee shop and pub, joining M-1 and Teiki live (comedy shows) but to no avail. Kazu recalled: "When we were in the group for 5 years, we performed on the London London # 1 booting program dokkiri but did not attract the expected attention. We also run constantly to post clips on YouTube every day but still not very satisfactory. Being impatient and worried when the situation does not change, between the two people began to appear tense and the atmosphere of disappointment enveloped ". At that moment they heard about the project "Artists living in Asia". Pass the test and decide to come to Vietnam.
The challenge of "Vietnamese"

After more than two years of operation in Vietnam, Vietnamese is still a big difficulty for Kazu and Shinsuke. During their first year in Vietnam, the two went to Vietnamese school every day, now they study 2 times a week. Vietnamese is considered as one of the extremely difficult languages ​​because there are 6 tones, Shinsuke jokes: "In Japanese there is only one letter a (あ), but Vietnamese language has a lot of letters a (á, ah, ah, ah, ah …) "The language barrier is the thing that bothers them the most, because as a comedian, it is important for the audience to hear everything they say, then they to understand and laugh. Both Shinsuke and Kazu acknowledged that it must be better at Vietnamese to be able to conquer Vietnamese audiences.

At this time, both Vietnamese are improving, they are writing scripts in Vietnamese as well, in videos recording Japanese translation. But, not only the language, but also the cultural and comedy gaps between the two countries have a big difference. Therefore, there are many times, artists work hard, but the audience does not understand much, or sometimes cannot absorb … Japanese comedy. "There were once over 100 people on stage, to make the audience laugh, I wore two layers of wigs but I could only hear a few people rubbing them. The one who laughs is just the two of us "- Kazu pity.
Private feelings of those who are away from home

Currently, Double Wish occasionally participates in a number of television shows and receives performances at Japanese companies' events. Besides, the two also made many videos posted on YouTube, all activities aimed at Vietnamese audiences. However, just based on these things they do not have enough income to live. Living expenses and rent are mainly based on the small amount of money provided by MCIP.
When deciding to leave Japan to develop their career in Vietnam, both of them did not receive the consent of their family, it had to convince a time when people understood and agreed to let them take risks. However, in love is very different.