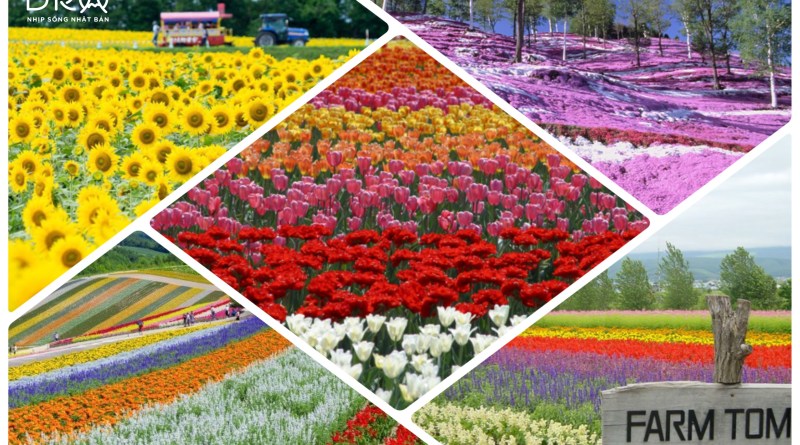 Hokkaido is an ideal tourist destination in the summer. There are many vast flower fields, illuminating an entire Hokkaido. There are many flowers blooming in the spring and summer, from sunflowers to lavender, take a look at the sea of ​​flowers in Hokkaido with KVBro!
HIGASHI MOKOTO FLOWER PARK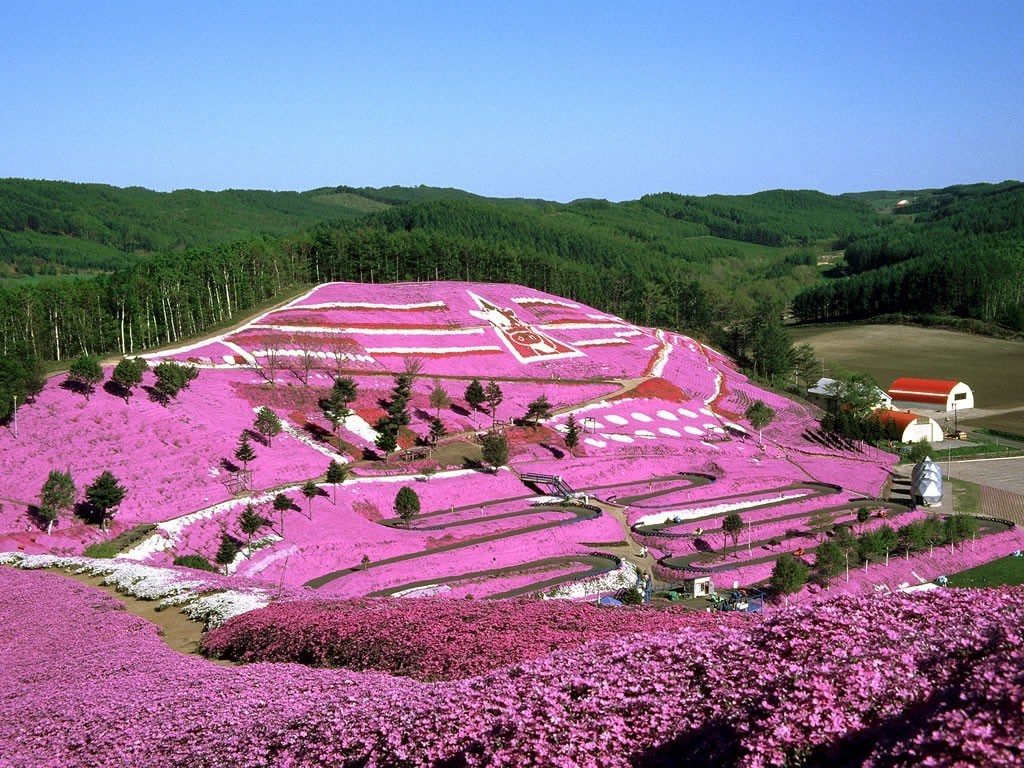 Cherry blossoms are blooming flowers blooming in spring in Japan, starting to bloom just after cherry blossoms. Higashi Mokoto (ひ が し も こ と 芝 桜 公園) is a 10-hectare park located in the town of Oroza in Hokkaido. From the beginning of May, flowers of the genus Anh blooming create a whole field of pink. The festival is held throughout the season and you can see the flowers at night.
How to go: should go by car; but can still be reached by public transportation. Take the bus from JR Abashiri Station (50 minutes) and get off at Higashi Mokoto Station, then take a 5 minute taxi. During the flowering season, there will be shuttle bus from Higashi Motoko station.
Address: Abashiri-gun, Hokkaido, Japan 099-3232 [Map]
Tel: +81 152-66-3111
Entrance fee: 500 yen
Time: 8: 00-17: 00
Best time to see the flowers: between May and early June
Web: Hoa Chi Anh Higashi Mokoto Park
 
TOMITA FARM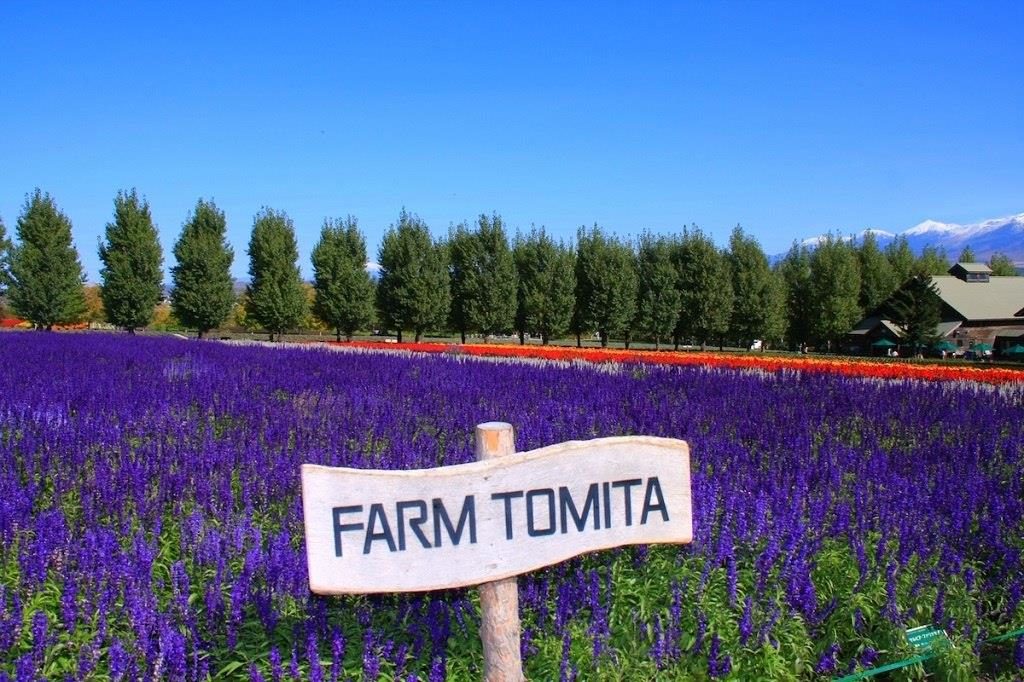 Tomita Farm (フ ァ ー ム 富田) is known as Japan's largest lavender field, attracting millions of visitors every summer. The farm has many fields with many flowers starting to bloom from early May to mid-October. But if you want to see this famous lavender field, the best time to come here is in July.
How to go: 7 minutes walk from Lavender Field Station
Address: Kisen Kita 15-go, Nakafurano-cho, Sorachi-gun, Hokkaido 071-0704 [Map]
Admission: free
Time: 8:30 am – 5:00 pm
Best time to watch flowers: early to mid-July
Web: Tomita Farm
Tel: + 81-167-39-3939
CHART SHIKISAI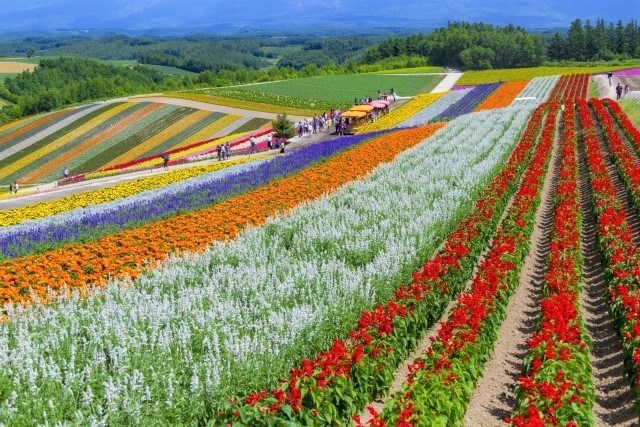 Shikisai Hill or Shikisai no Oka (色彩 の 丘) is a famous flower field located in the town of Biei in Hokkaido. This 7-hectare hill is filled with colorful blooms that blooming throughout the summer, and visitors can enjoy the scenery around the field with unique vehicles such as bus trucks, oxcarts, baggie car … In winter, the field opens to welcome visitors like a snow park.
Access: 25 minutes on foot from JR Bibaushi Station
Address: Shinsei-daisan, Biei, Kamikawagun, Hokkaido [Map]
Entrance fee: 200 yen
Time: 9:00 am – 5:00 pm (depending on the month)
Best time: July
Web: Shikisainooka
Tel: 0166-95-2758
KULIYUBETSU TULIP PARK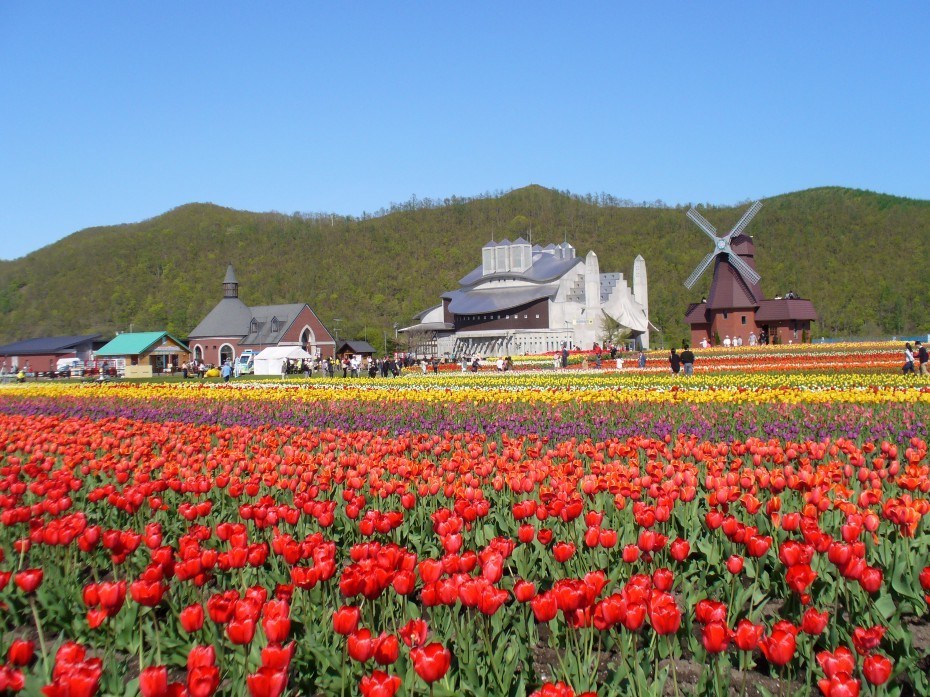 1.2 million tulips with more than 200 species covering the 70,000 m2 field at Kamiyubetsu Tulip Park (か み ゆ う べ つ チ ュ ー リ ッ プ 公園). The park is located in the town of Yubetsu in western Hokkaido, about 1.5 hours drive from Memanbetsu Airport. During the tulip season, the Dutch theme festival is held in the park and you can watch charming tulips and windmills.
Address: Tondenshigaichi, Monbetsu-gun, Yubetsu-cho 099-6501 [Map]
Tel: 01586-2-5866
Entrance fee: 500 yen
How to go: should go by car. The nearest station is Engaru Station, which is also 15 km from the park.
Time: 8: 00 ~ 18: 00
Best time: mid-May
Web: Kamiyubetsu Tulip Park
HOKURYU SUNFLOWER UNIT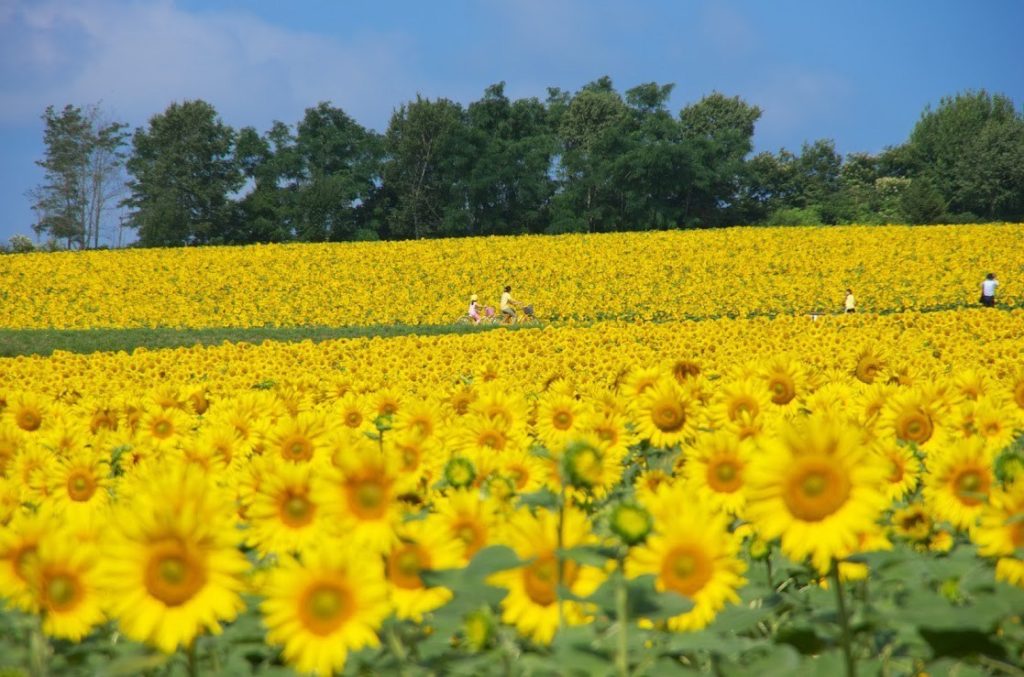 The field of sunflowers is a symbol of summer in Hokkaido. The sunflower field of Hokuryu Town (北 竜 町 ひ ま わ り の 里) is very famous, located about 100 km north of Sapporo City. There are more than 1.5 million sunflowers on a field of 23.1 hectares and visitors can enjoy the impressive scenery of the bright yellow fields. The festival is held annually from mid-July to mid-August.
Address: 〒 078 – 2511 Hokkaidō Uryū-gun Hokuryū-chō Itaya 143 [Map]
Admission: free
Time: 24 hours
Best time: early August
Web: Hokuryu Sunflower Field