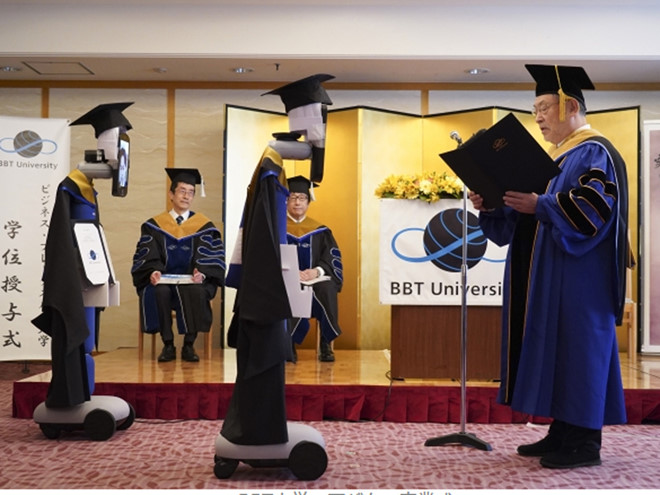 While the graduation ceremony of many universities in the world and in Vietnam is postponed due to the Covid-19 epidemic, a university in Japan has organized an online graduation ceremony and robots will receive a degree instead of giving birth. tablets.
On March 28, The Business Breakthrough University (BBT) in Japan held a graduation ceremony for students. However, unlike traditional graduation ceremonies, the school organizes online ceremonies and uses robots to receive student diplomas.
Information from the school website said the graduation ceremony was held at the Grand Palace Hotel (Tokyo) to deal with the new strain of Corona virus and the participation of all students on the graduation list. However, students from around the world will participate in the ceremony through the Zoom application. The robots named "newme" (developed by ANA Holdings) will stand out to replace students to receive a diploma awarded by Mr. Kenichi Omae – President of the school.
At the ceremony, there were 4 robots (2 representing graduate students, 2 represented by university students) designed in human form, wearing school attire. On each robot there is a tablet to display the image of each student and move with the "legs" of 4 wheels. When the moderator reads the student's name, the robot displays the student's face and advances to receive a diploma from Mr. Kenichi Omae. All graduation ceremonies are the same as usual. The only difference is that instead of being in person, students at home and robots represent degrees.
Mr. Kenichi Omae believes that the online network extends the possibilities of people to the limit and will continue to grow, playing an active role in the world.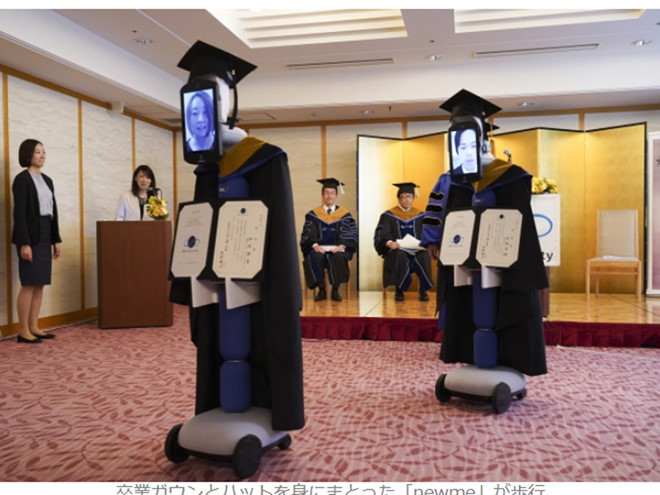 A graduate who ran "newme" and attended the graduation ceremony said: "When I signed up, I never thought that I would operate a robot with my face and attend the graduation ceremony. Graduating in public like this is a really new experience. "
Professor Shugo Yank, Dean of the Department of International Business Administration, who is responsible for the online graduation ceremony, said: "Although there must be safety factors to limit the spread of Covid-19, the ceremony Graduation is still very warm. We hope this initiative will be useful for educational institutions that are having difficulty organizing similar ceremonies. "
Currently, in Vietnam, universities such as University of Agriculture and Forestry of Ho Chi Minh City, Banking University of Ho Chi Minh City, University of Finance – Marketing, University of Technology Ho Chi Minh City, Thu Dau Mot University … have announced to postpone the group. hold the graduation ceremony due to the complicated development of the Covid-19 epidemic.