Webinar – Online meeting or applications, online meeting software and support to organize online meetings on the website platform is one of the most useful office tools today in the 4.0 technology era.
Today, there are many businesses, aware of the importance of connecting members of the meeting together, regardless of remote geographical distance. More broadly, businesses can use online meetings as a communication tool, spreading marketing messages to a large number of potential customers.
1.ZOOM
ZOOM Cloud Meetings is a highly recommended solution for online cloud-based virtual meeting software Because ZOOM Cloud Meetings can be used on mobile devices. This is an application that is suitable for people who travel frequently or travel from place to place.
2.Join.me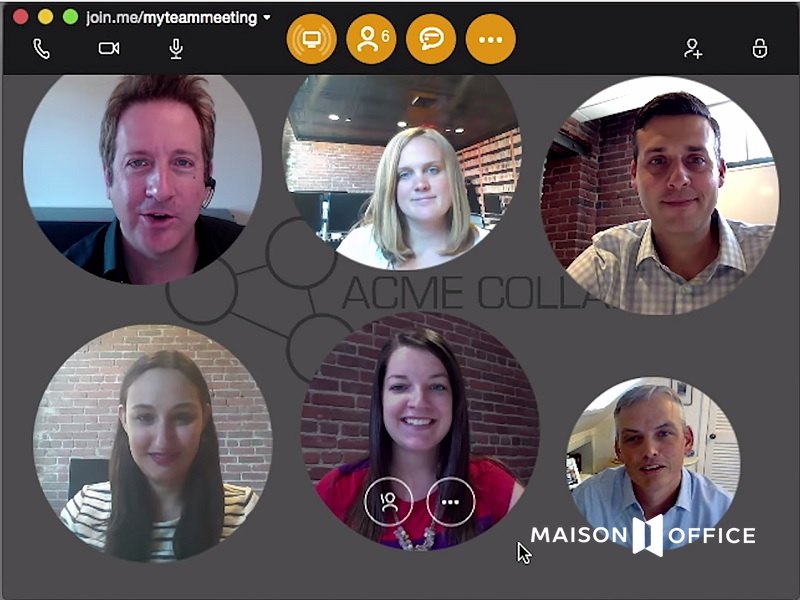 Join.me Free for 10 participants to the meeting. With more participation, you can choose the package that suits you for $ 10 – $ 20 – $ 30 per month.
3.Skype
Skype is a software that allows texting, calling or video calling & video conferencing online very famous and completely free.
In 2011, Microsoft bought Skype for a record $ 8.5 billion. Skype is fully integrated with Office 365 to enable quick sharing of data files.
4.Google Hangout
Google Hangouts is a media platform developed by Google, including instant messaging, video chat, SMS and VOIP.
The conversation can be up to 150 people. Video calls can include up to 10 people (Gmail, G Suite Basic) or 25 people (Business, Education).
5.TrueConf Online
TrueConf supports all computer and mobile operating systems and both Chrome and Firefox browsers. TrueConf has video quality with HD definition, content sharing, instant messaging, remote control, slideshows among other features. TrueConf allows organizing a group of online meetings with up to 250 participants.
6.Facebook Workplace
Workplace is a mobile application and web application designed to maintain team members' connections.
7.eMeeting.vn
eMeeting is a free online meeting service developed by BKAV, with many functions such as slideshow, screen sharing.
To use this service, businesses and organizations need only simple equipment such as computers, webcams and speakers, and then access eMeeting.vn with their Gmail or Facebook accounts to meet online.
8.Mikogo.com
Mikogo is a powerful event management application that allows the attendance of up to 25 people in real time. The Switch Presenter function allows any participant to become a speaker, and share their presentation screen for the remaining participants.
9.ClickMeeting
With just a simple registration, users can organize meetings, and edit invitations in an instant. An interesting feature of this tool is the function to notify the main events of the meeting, similar to the "wall" interface of Facebook.
10.GatherPlace
GatherPlace is an online meeting organizer with an intuitive interface that allows the host to share the entire presentation screen, or part of the screen, for meeting participants. This highlight comes from the strategy of building an online meeting tool based on the color interface of a real web browser. GatherPlace supports meetings with up to 200 people, suitable for meetings with a large number of participants.
11.GoToMeeting
GoToMeeting is an interactive tool that allows users to create surveys right in the process of organizing a meeting, to help the chairperson interact better with the participants of the meeting. Immediately before the meeting takes place, you can fully use the auxiliary tools to rehearse for the presentation. During the meeting, you can record to serve post-meeting activities.
12.AnyMeeting
AnyMeeting is also a useful online meeting tool, allowing you to create your own meeting registration form, create email marketing, integrate CRM tools, and even integrate Zapier (an application management service. automatic marketing activities). With this function, you can completely schedule, automatically perform marketing activities according to your purpose.
13.Cisco WebEx
Cisco WebEx provides you with an online meeting solution, with a simple, easy-to-see interface.
This tool supports the number of conference participants up to 200 people. Some of the salient features of this tool include: online chatting with participants through in-meeting chat tool. The statistics will also be provided by WebEx to the meeting organizer.