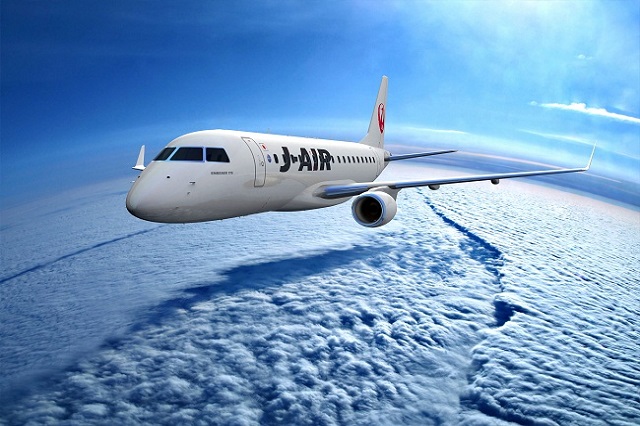 When you work and study in Japan, you will definitely get long holidays. In case you want to travel a bit far but still do not know how to choose transportation to save time. Knowing those concerns, we will provide you with "top 10 Japanese airlines" with extremely good service quality in Japan. Hopefully this article will be of great help to you in choosing reputable airlines for the most complete trip.
1. Japan Airlines (JAL)
Japan Airlines (JAL) is one of the largest reputable airlines in Asia. On October 1, 1953, Japan Airlines was established and officially became the national airline of Japan. Currently, this airline has representative offices in many major cities of Japan such as Tokyo, Osaka, Okinawa, Nagoya. The airline's head office is located in Tokyo with the main operating centers being Narita International Airport (NRT), Tokyo International Airport (HDN) and Osaka International Airport (ITM).
In 2012, Japan Airlines was awarded the "World's most punctual airline in the world" by FlightStars, a leading company in providing airport services and flights. In addition, Japan Airlines is also an airline that flies direct to Latin America.
Japan Airlines fleet has about 300 aircraft and the airline has the largest number of Boeing 747 aircraft in the world. The airline's flight network covers more than 125 destinations worldwide. Besides, Japan Airlines also leads the service quality in the flight so passengers can safely choose this airline as their companion.
2. All Nippon Airways
All Nippon Airways, abbreviated as ANA, is an airline based in Tokyo. All Nippon Airlines is Japan's largest international and domestic airline. Besides, All Nippon Air is also the most standard airline in the world after Japan Airlines.
Its main operations center is located at Narita International Airport – Tokyo and Kansai International Airport in Osaka. Along with its main activities, ANA also has many smaller airlines such as Air Nippon, Air Japan, Air Next, and Air Central.
ANA has an extensive domestic route network throughout Japan and spreads to other countries around the world such as China, South Korea, Southeast Asian countries, the United States, Mexico and Western Europe. ANA owns modern aircraft such as Boeing 747-400, Boeing 767-300, Boeing 737-700, Bombardier DHC8-Q300 … This airline has repeatedly won the title of an airline with good airport service. in the world and "the best airline staff in Asia".
3. Peach Airlines
Peach Aviation Limited or Peach Aviation operates under the name Peach. This airline was established in February 2011 and officially operated in April 2011. Peach is quite famous based at Kansai International Airport – Osaka.
Peach has 2 popular fare types: Happy Peach and Happy Peach Plus. If you have decided to choose Peach as your companion and have set a specific date and time, please choose to buy a Happy Peach ticket. On the contrary, if your travel days are still empty, you can choose Happy Peach Plus. Of course, Happy Peach Plus fares will be slightly higher than Happy Peach depending on the route that the customer chooses.
Peach has routes to Sapporo, Fukuoka and Osaka, from Osaka to Sapporo, Sendai, Nagasaki, Kagoshima and Naha. Besides, Peach also opened some international routes to South Korea, Taiwan and Hong Kong. Moreover, this airline also regularly organizes strong discounts or promotions to attract customers. In addition, the meals served on the flight also satisfy many passengers.
4. Vanilla Air
Vanilla Air, abbreviated as VNL, is a fairly well-known airline when it has many flight routes to countries in Asia, including Vietnam. Vanilla Air has a convenient booking system and a reasonable service fee. In addition, this airline also has a discount of 10% if passengers traveling in groups of 4 or more for the ticket class Comicomi vanilla (ticket class with 20kg luggage).
Vanilla Air operates two-way domestic flights from Narita International Airport – Tokyo to airports such as Sapporo – Hokkaido, Naha – Okinawa, Amami Oshima – Kagoshima and some international routes to Hong Kong or Taiwan. Vanilla Air is also considered as one of the prestigious airlines in Japan when having in-flight services that fully meet the requirements from passengers and have frequent promotions and offers.
5. StarFlyer
StarFlyer was founded on December 17, 2002 and is headquartered at Kitakyushu Airport. StarFlyer is considered an airline that provides a higher level of service than other airlines while the service cost is not too expensive.
The majority of StarFlyer's fleet of A320-200s is leased from GECAS and AWAS but has also purchased 3 A320s to replace the leased aircraft. Comfort on the plane is also fully equipped such as television, on-site power source to charge the laptop …
StarFlyer Airlines operates domestic routes within Japan, to Seoul and Busan of South Korea. Moreover, StarFlyer plans to continue operating international routes in 2018 with daily flights from Nagoya, Fukuoka and Kitakyushu to Taipei.
6. Solaseed Air
Solaseed Air is a low-cost airline headquartered at Miyazaki Airport, Miyazaki Prefecture – Japan. Established in 1997 as the fourth new airline in the Japanese market and gradually asserting itself in aviation services in this country.
Solaseed Air mainly serves Japan domestic routes and is directed to international routes in the nearest future. Solaseed Air is trusted by many people because of its good service but also many abundant discount programs.
For example, the discount program according to the number of days booked by the passenger – Bargain series. You can reserve 14 days, 28 days, 35 days, 60 days or 80 days. The further you book, the more the price will decrease. However, the number of tickets in this program is always limited so those who are quick to buy it.
There is also another program, the Special sale series, for passengers who cannot buy tickets in the Bargain series. In this program, you can buy tickets 1 day before departure, 3 days or 7 days. You should note that the number of tickets in this program is still limited offline.
7. Air Do
Air Do was formerly known as Hokkaido International Airlines – headquartered in the Oak Sapporo building.
Air Do was founded in 1996, operating mainly in Hokkaido prefecture. Air Do owns aircraft such as Boeing 737-700, Boeing 767-300 and Boeing 767-300ER and has quite a number of flights. Later, Air Do gradually eliminated low-productivity routes and became an increasingly popular airline in Japan.
In terms of fares, Air Do has relatively higher fares than many other airlines in Japan. However, Air Do still has many incentive programs for customers such as discount programs for people in the province. This program offers discounts to residents who have a residence, live or work at a Hokkaido-based company and register as a MyAirdo member. After becoming a member of this program, passengers can buy tickets close to the flight date or on the flight date and still apply the discount. Moreover, passengers can exchange tickets without charge.
8. Jetstar Japan
Jetstar Japan has operated domestic routes since July 2012 and international routes in February 2015. Currently, the airline offers more than 100 flights per day and serves more than 22 million passengers. stock since its first launch in 2012.
Jetstar Japan operates flights to 12 destinations in Japan with 17 domestic routes, 4 destinations with 9 international routes. Jetstar Japan fleet consists of 21 Airbus A320 aircraft with the number of seats up to 180 seats and fully equipped.
This airline's features are summarized in 3 characteristics: cheap, thoughtful snacks and flight time without delay. Jetstar Japan fares are usually about 5000 yen cheaper than other airlines and are quite famous for complying with the time on all flights. Occasionally, Jetstar Japan still has promotions, so you can track and update information regularly to buy cheap flights.
9. Skymark Airlines
Skymark Airlines was established in November 1996 as an independent domestic airline and officially operated on September 19, 1998. This airline was known as the first low-cost airline. was established in Japan and is the only airline to provide domestic flights at Haneda Airport, competing directly with Japan Airlines and All Nippon Airways.
Skymark Airlines has exploited routes to domestic destinations in Japan with a fleet of aircraft such as Boeing 737-800, Airbus A330-300, Boeing 767-200, Boeing 767-300ER … Skymark Airlines gradually improved. services, equipment on the plane and become a quality airline that is trusted by many people.
10. Ibex Airlines
Ibex Airlines is headquartered in Tokyo – Japan, was established on January 29, 1999 and operates and August 7, 2000. This airline has a cooperation agreement with All Nippon Airways so it should be assisted. during flight operations, providing crew, maintenance or technical support …
Ibex Airlines mainly provides domestic flights in Japan with fleets like Bombardier CRJ700