Hiyashi chuka, also known as Japanese cold noodles, is a traditional dish and very popular in the culinary culture of the land of the rising sun. For some people, it would be quite surprising when you first hear the name of this dish. "What is cold noodles like? How to enjoy? Why is there a name of cold noodles? ".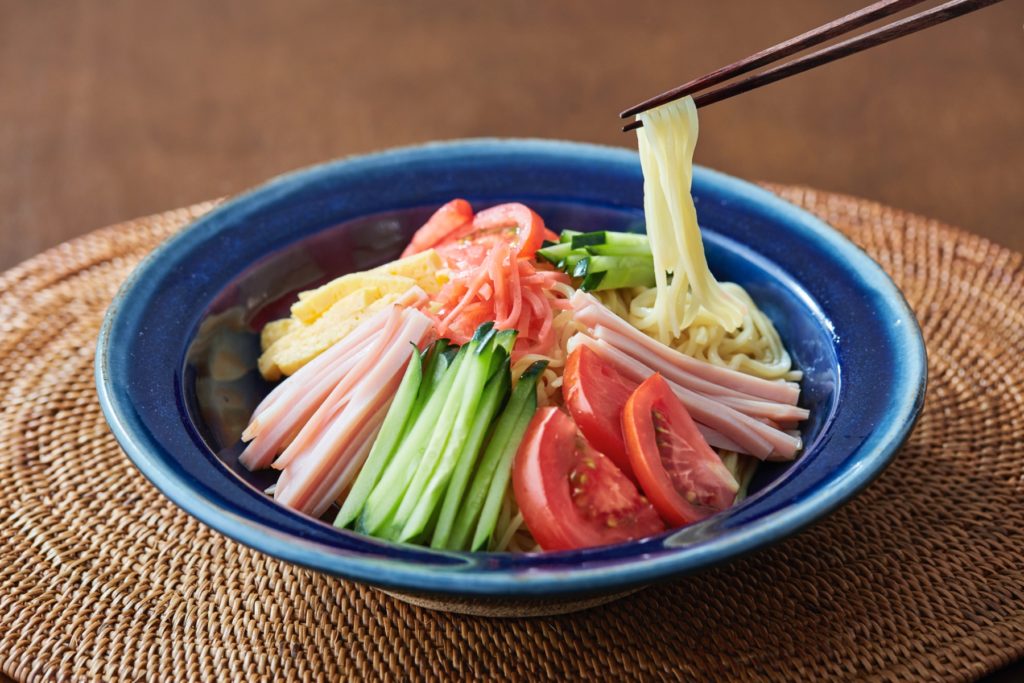 These may be questions that arise when you first hear the name of this cold noodles. And I hope everyone after reading this article will be able to answer their questions about the unique dish that Japanese people love to enjoy when the weather is hot.
Hiyashi chuka means cold noodles, a dish that Japanese often eat in the summer. Just by the name, surely people can imagine what this dish has to do.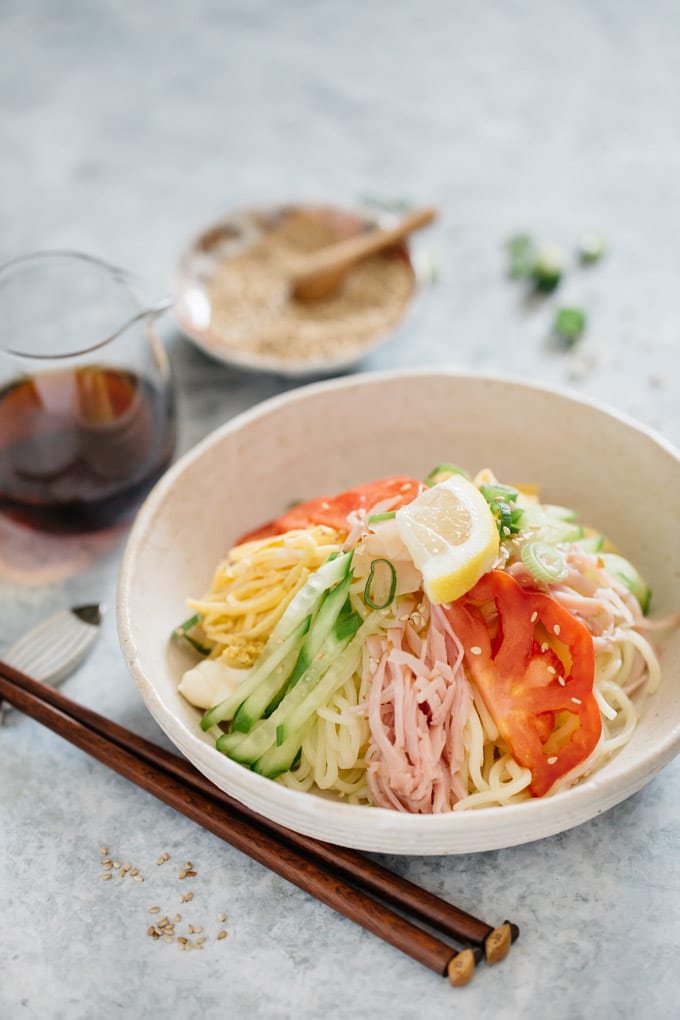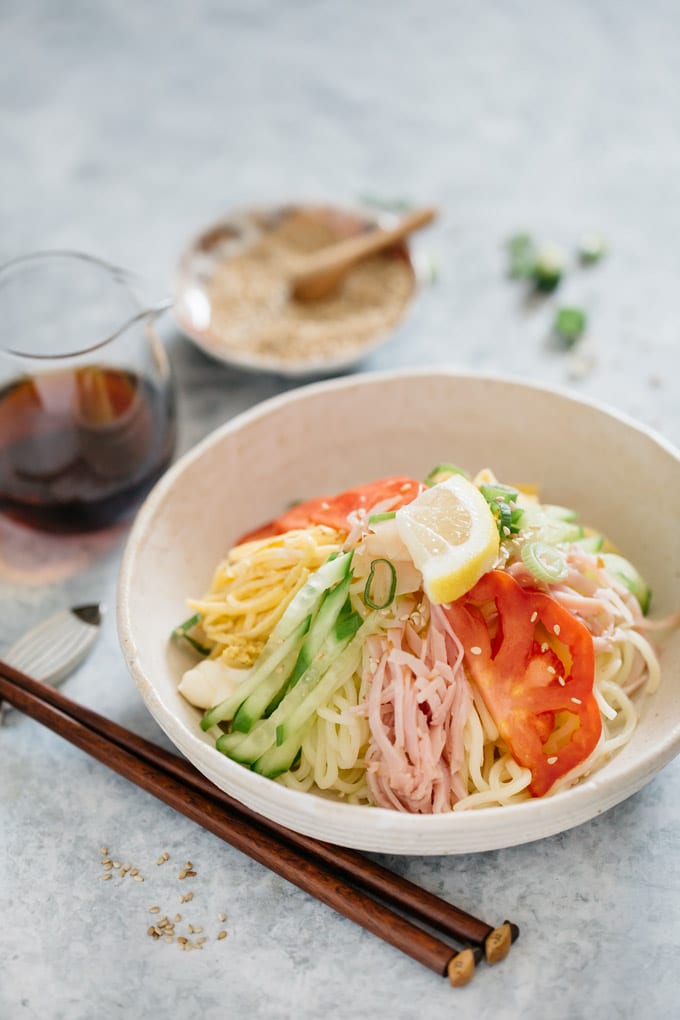 Yes, in Japan, noodles are a very popular food, there are many types of noodles in Japan and are enjoyed by the weather if the bowl of hot soba or ramen noodles makes other food irresistible.
Every winter, hiyashi chuka is a noodle dish that everyone will want to eat in the hot summer weather. Hiyahsi chuka is made with cold noodles and is covered with a lot of ingredients and served with a bowl of cold soup.
On a hot summer day, you will probably feel uncomfortable when enjoying a hot bowl of noodles or you are bored with meat, fish, grease, fried noodles, etc. But you still crave noodles, what to do?
Try a bowl of cold noodles dish that you can easily find at any Japanese restaurant in Vietnam. Japanese cold noodles are a variety of flavors and colors, you will be fascinated at the first time to enjoy.
And one special thing that I said from the beginning is that this dish is served cold so it will certainly make you comfortable with the hot weather of summer. It's almost like the dry noodles of Vietnam, the cold noodles that you enjoy will not be used with the soup, instead, the dried noodles are pre-chilled or can also have ice cubes marinated directly on. pasta.
How to make Japanese cold noodles Hiyashi Chuka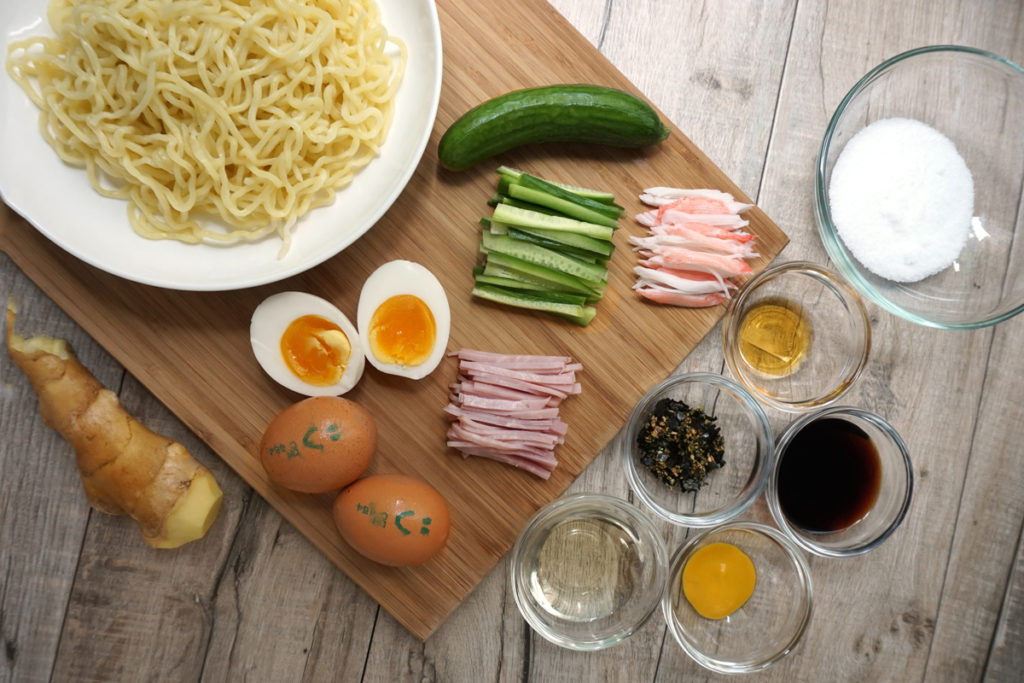 Ingredient
Dry soba noodles (optional brown or green soba available), chilled soy sauce (sold in bottles), grilled seaweed (kimchi-nori), scallions, optional: ginger or radish Pure white, green mustard (wasabi).
Let's make it!
Step 1: Bring the boiled water to boil, soba noodles boil according to the instructions on the package, the boiling time is usually very fast, about 5 to 10 minutes to avoid too soft noodles will lose appetite. When the noodles are cooked, let the basket rinse with cold water and drain, display the noodles on a plate with some ice cubes to keep the noodles cool.
Step 2: Cut the seaweed, scallions, white radish, ginger.
Step 3: Soy sauce with noodles and noodles for a small bowl, when eating, each person grabs noodles with seaweed strands and scallions into the bowl of sauce and then uses cold. If you like the spicy taste, you can use it with ginger / grated white radish or mustard green mixed in the sauce