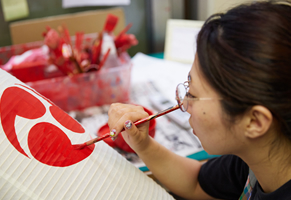 Introduction
Hello Everyone、
Welcome to our "Japanese lantern selling company".
Lanterns that you often see at Japanese Festivals we call提灯or "Chochin" in Japanese.
There are many different types of lanterns from all over the world; such as China or Vietnam.
However, Japanese Lanterns (Chochin) are made all by hand!
With much patience they are made to not only give an otherworldly experience but because they also can have names printed on to them. They also act as a major part for companies or events.
The major part of Japanese Culture we know as the "chochin", not only do we wish to spread it in Japan but also the world! And thus "Japanese lantern selling company" was created.
Through our Lanterns、we can make your important space more wonderful。
Japanese Lanterns have the power to change the world! This, we believe in.
For those customers looking to ship outside of Japan、
Or those whom wish to order in English、we have American Staff that are able to take your order!
Feel free to ask us anything!