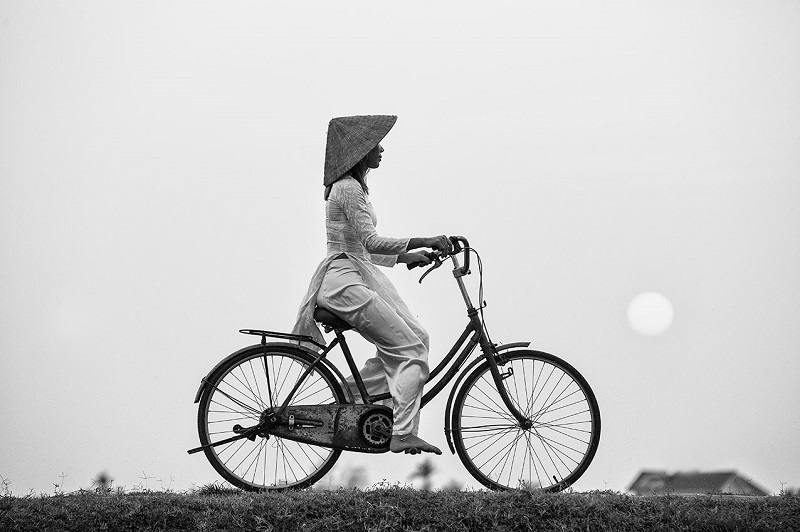 The Ao Dai has been considered a symbol of the charming and elegant beauty of Vietnamese women and is a traditional cultural feature of Vietnam. That beauty not only attracts Lac Hong's descendants, but also makes a special impression in the eyes of foreigners.
 On the occasion of Hue Ao Dai Festival 2019, especially after the interview with designer Minh Hanh, "Ao dai is a cultural heritage". Thu Minh member of the forum cited comments about Vietnamese ao dai on foreign newspapers.
Each ethnic group has its own traditional costume. Japanese have Kimono, Korean has Hanbok, Chinese girls have Cheongsam and Vietnamese has long dress. But unlike Kimonos or Hanboks, Vietnamese ao dai has its own beauty that blends both traditional and modern beauty.
From the white ao dai to the bright female school uniform, the colorful long dress, the material and the long and short design of the young women on the streets, or the beautiful ao dai for the holidays. The ao dai has been constantly improved and innovated, from a wide and loose monochromatic pattern, so far Vietnam's Ao Dai has become diverse and appeared in international fashion catwalks, from Paris, via Milan to New York.
If the cheongsam dress brings a charm, a strong attraction for Chinese women, then with a long dress, Vietnamese girls have a special charm and elegance.
The design of the Ao Dai is very special, which helps to enhance the physical beauty of Vietnamese women. Although the neck is high, the shoulders are round, the two shoulders are discreet, the ao dai still exudes a sensual and charming beauty. Do not delve deep or have bold "cut out" lines, the shirt hugging the chest and waist subtly emphasizes the soft curve of the woman, combined with long pants to create a sense of long slender legs Just create comfort and freedom for the wearer.
There is no mass production technology in the ao dai, which is usually tailored for one person. Individuality, age of each person or the whole environment, the context to wear the ao dai is also clearly shown through each model. Therefore, the process of selecting fabrics and measuring clothes is done very meticulously and thoroughly.
Perhaps because of that attraction, many foreign designers have "tried" with Vietnamese ao dai designs, many foreign photographers are engrossed in expressing the beauty of Vietnamese girls in Ao Dai.