Event Director
Depending on the scale of the event program, the director is usually a person or a group of people in the key positions when making an event. The mission of the event director is to be responsible for creating ideas, implementing, ensuring the event proceeds smoothly and successfully in accordance with the agreed scenario.
In addition, the director must build a media strategy, promote the image for his own event. Therefore, not only satisfies the specific skills that require a wide range of knowledge in many aspects such as techniques, implementation processes, stage decoration, sound and light but also psychology skills, event planning skills, crisis management skills, monitoring and design skills, creativity for the event. Relationship to the media or budget management skills, knowledge of marketing, knowledge of paperwork
Reference salary:
1000USD ~ 1500USD or more depending on the scale & scope of the event.
Event Coordinator
They are some people who often seen at a black-wear event with walkie-talkie, always standy by at the AV system table or at the console or stage area. The coordinator is responsible for ensuring the event agenda is kept on time. In addition, they also perform the task of contacting, directly handling detailed job information with the staffs (such as MC, PGs, performers …), stars, media.
Not only that, the task of the event coordinator in marketing is to produce and distribute marketing materials such as invitations, press releases, advertising content, leaflets and sometimes even upcoming events. arrange facilities for personnel and guests. Usually the event coordinators work as a freelancer or official staff of an event or media company.
Reference salary: For freelance: average 200USD/ per event day. For employees: stable income about 500USD ~ 800USD/ month d depending on experience. .
Event Sales Staff
A position that needs appearance and foreign languages, as well as knowing the market price can advise to the customers on the equipment, location and personnel suitable for the event. Skilled in finding new customers, cut a deal for variety of events such as: Customer Conference, Celebration, Gratitude Ceremony, Opening Ceremony… In addition to adaptation for this position, in fact they need at least 3 years of experience. They must also be a person who knows how to build good and long term relationship with many people in many fields: Finance, Banking, Real Estate and large corporations. This requires soft skills in communication, presentations, good negotiation, flexible personality, ingenious, and popular. A sales staff needs to be able to work independently, high teamwork spirit.
Reference salary: average 500USD and accompanied by sales.
With long experience and the position of Sales Manager can bring stable income from 1000USD ~ 1500USD (excluding commission).
Graphic designer 2D – 3D Designer: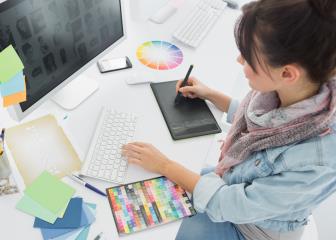 The 2D designer will perform the design of publications, give away gifts, cards, portfolio, bidding documents to support event bidding and all the needed items for event such as backdrop, banner, standee … With the role of designing 3D graphics, the 3D designer can show 3D design of stage, the venue ect They have a decisive role in cut a deal for the project or make customer can imagine every corner of their event.
Reference salary for 2D design:
Average 400USD ~ 1000USD depending on experience.
Reference salary for 3D designer:
Average 650USD ~ 1200USD depending on experience.
Event Helper / Supporter:
In an event, there are so many "nameless" tasks such as setting up a microphone for singers, welcome guest, preparing stuff, bring props or even carrying etc. While these jobs do not affect the main flow of event, but it is extremely important for an event to take place smoothly.
This job requires good observation, active personality, enthusiasm, agility, those who are in this position are usually students, students or PG, PB. Currently, in Vietnam this job is popular with students for bringing experience, practicing attitude, teamwork. A great preparation step before graduation to blend into the working environment.
Reference salary: 25USD ~ 100USD / per event day.
Audio Video System Controller

An important and indispensable position requires high guaranteefor the organizers of the program, a high level of concentration at work and a wealth of professional experience in controlling the sound and light system for true coordination. smoothly with the director, the coordinator, the performance staff, the MC was very convenient.
Viewers, visitors to the event have moments of eye-catching, emotions surge or not, thanks to the wonderful sound and light effects from these quiet people.
Reference salary: 200USD ~ 300USD / per event day.
The article is based on reliable, published sources in Vietnamese,