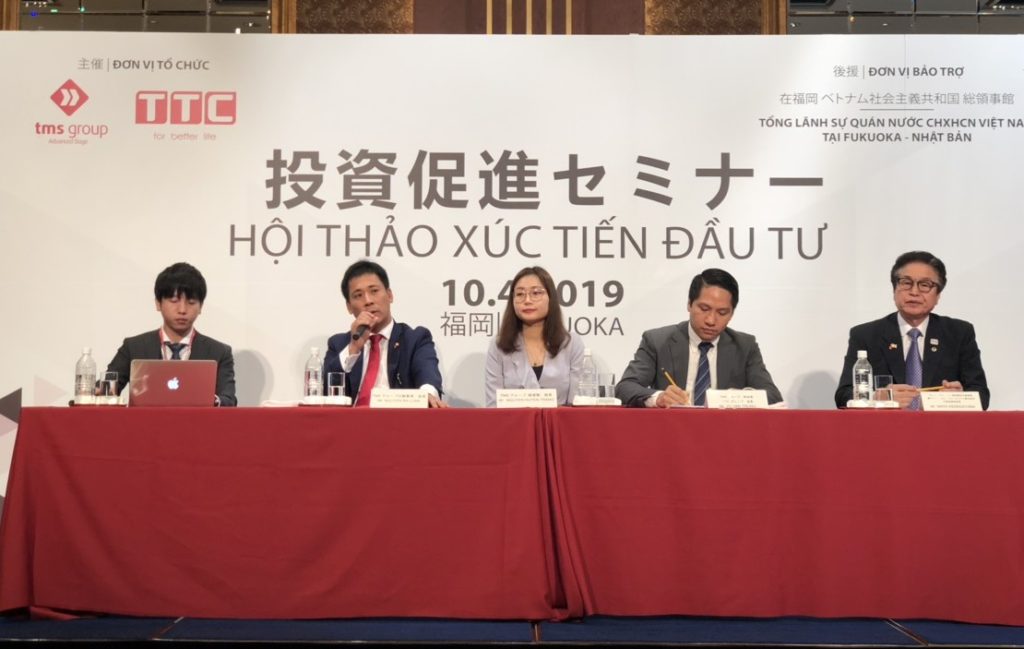 Through a series of investment promotion conferences held by TMS Group in Tokyo – Osaka and Fukuoka (Japan), businesses and investors attending the event are actively focusing on 5 real projects. Large-scale real estate that the Group is preparing to deploy in Vinh Phuc, Bac Giang, Thai Nguyen, Binh Thuan and Quang Binh.
5 Vietnamese real estate projects "hot" in Japan
Many economists and leaders of leading businesses in Japan have stated that Vietnam's real estate market (real estate) is the most attractive in Southeast Asia because of a safe and stable investment environment. Vietnam is growing with high-rise buildings built throughout the provinces and cities across the country. The field of real estate in Vietnam is growing to become the No. 1 investment channel. That also explains why the wave of foreign investors, especially Japan, is constantly pouring into Vietnam's real estate market.
At the seminar series organized by TMS Group, the number of Japanese investors and businesses attending was always full of auditoriums. The seminar atmosphere was always exciting because a series of questions from investors interested in high-class real estate projects of TMS Group including: TMS Green Diamond (Vinh Phuc), TMS World Quang Binh (Quang Binh) ), TMS Metropolis Bac Giang (Bac Giang), TMS World Binh Thuan (Binh Thuan), TMS World Thai Nguyen (Thai Nguyen).
5 large-scale real estate projects possessing expensive coastal locations such as Quang Binh, Binh Thuan or in the center of big cities with rich development potentials such as Bac Giang, Thai Nguyen and Vinh Phuc, promising investment opportunities Outstanding profitability for investors. The projects are designed according to international standards, high-class utility services, unique products, ensuring fast, safe and quality construction.
TMS Group with a long history of 15 years of development, is assessed with global thinking and international experience reflected in 15 years of experience working with Japanese partners, successful cooperation with Australia and other countries. other. TMS Group currently ranks in the top 10 leading real estate developers in Vietnam. The Group has a young, enthusiastic, talented staff, large land bank, and projects developed by TMS Group that bring practical benefits to the community such as hospitals, schools, and children's playgrounds. That is the Government of Vietnam care, encouragement. This is a solid foundation for Japanese investors to feel secure in investing in real estate projects of TMS Group.
Speaking at the seminar, Ms. Nguyen Phuong Hong – Consulate General of Vietnam in Fukuoka shared: "I hope Japanese businesses will pay more attention to real estate investment in Vietnam and about Xi's projects. TMS Group and can find opportunities for cooperation in various forms. The Consulate General of Vietnam in Fukuoka acts as a bridge to accompany and support businesses in Kyushu to invest and do business in Vietnam. "
Welcoming investment flows from Japan
In Fukuoka, Mr. Hatori Norio – Former Ambassador Extraordinary and Plenipotentiary of Japan to Vietnam said: "This is the first seminar of a Vietnamese private economic group introducing the project in Fukuoka. I think that the initiative in going abroad to seek foreign capital of TMS Group is a remarkable breakthrough, showing bravery and confidence of the business ".
Sharing the same view, Mr. Sumio Hara, President and CEO of So Kikaku Sekkei Construction Design Company, said that Vietnam is considered as the leading investment destination in Southeast Asia. However, Japanese investors will still have many unknowns about the real estate market in Vietnam. Mr. Hara said that seminars like TMS are very useful because Japanese businesses will have more information about Vietnam's real estate market and can increase the capital invested in this market.
According to Mr. Vu Van Trung – PCT of TMS Group, the initial results show that the Group's investment promotion activities in Japan are extremely successful. Nearly 500 enterprises and investors participated in seminars in three major cities in Japan, including many leading Japanese investors. Many investors have expressed interest in the projects that TMS Group focuses on real estate, health, agriculture and education. In the near future, some Japanese partners will cooperate with TMS Group to implement those projects.
It is known that after the success of the Japan Investment Promotion Conference, TMS Group will promote cooperation in the United States, South Korea, Australia, Singapore … which have many strengths in management and operation issues. The operation and design help TMS Group develop all areas quickly, strongly and sustainably.
According to a survey of JETRO – Japan Trade Promotion Organization, 70% of Japanese enterprises in Vietnam have the motto of "expanding" business activities, compared to other countries, the rate is relatively high. According to Ms. Kako Sasai, Head of JETRO's Business Information Department, from 2016 to 2018, investment from Japan to Vietnam has increased rapidly, opening up opportunities for Vietnamese businesses to catch Japanese capital.