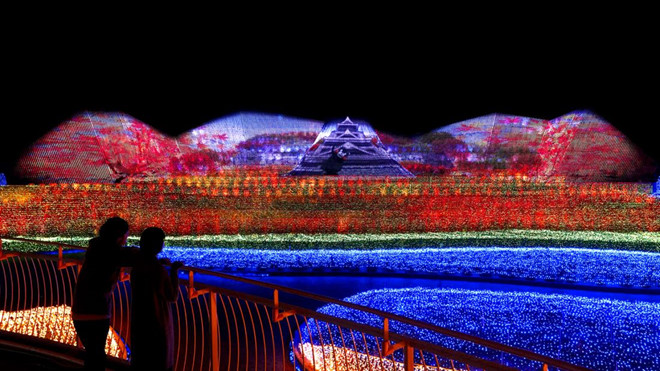 The impressive lighting show with millions of LED lights makes Nabana No Sato a must-see attraction in the winter in Japan.
This is considered the most romantic winter destination in Japan. The annual Nabana No Sato Festival in Nagashima Resort is one of the famous lighting shows in cherry blossom country and in the world.
The main theme of this year is "Kumamon's Dream of Homeland in Kumamoto". In it, Kumamon, Kumamoto's mascot bear, goes to the most beautiful places of this land. The goal of this topic is to attract the attention of visitors to the Kumamoto region, where the earthquake disaster hit in 2016.
This is the 14th year the festival is held. Millions of colorful lights are lit, creating splendid scenery like a fairyland.
In addition, visitors can also have fun at the amusement park, giant ferris wheel or relax in the hot spring spa when coming here.
Visitors can also admire the 100-meter-long light tunnel at the resort.
This year, the tunnel is decorated with a cherry blossom theme, showing different stages of blooming.
The festival lasts until May 2018. In the spring, cherry blossoms blooming on campus will give the festival a new look.
In 2017, the theme of the festival is "The beauty of mother nature", showing the famous scenes in the world. Nabana No Sato attracts about 2 million visitors each year.