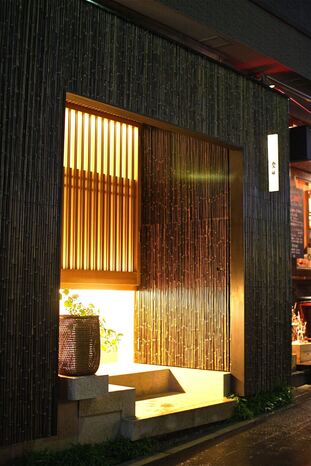 In Tokyo we can only find paved roads like this one here. The space in Kagurazaka is quite special with black walls and gray paved walkways, which is a harmonious combination of colors. Here visitors can not help being surprised by the ancient features of Kagurazaka, especially when it is located in the heart of modern Tokyo. It is interesting to take a few steps to see the ancient beauty of Kagurazaka district.
Walking on the paved road, one can recognize the stones are arranged in a very delicate way, creating many fancy images. Sometimes the stones are arranged in a straight line, sometimes the arc looks like a mosaic. The beauty of the road is more ancient than when you wear a traditional kimono and walk on it.
Kagurazaka is home to many geisha. Geisha is a Japanese word that refers to artists who are both talented at dancing and having the ability to talk to guests. The ancient paved road is further enhanced by the elegant beauty of the geisha. In the thirteenth and nineteenth centuries there were many geisha active in the field of traditional entertainment in Japan. Although geisha are still active today, the number is decreasing.
Visit the Wakana Inn which is located along a fairly quiet walkway, where many famous Japanese film writers and directors often reside.
Cat lovers often come to Kagurazaka. Many of them think cats look more prominent when they walk down the narrow, paved walkway in this area. There are many shops selling cat-shaped products for travelers to choose from.
When the sunset falls, the landscape here changes completely. The soft yellow light is signaling to visitors that this is a traditional entertainment district in Japan.
Many people come to Kagurazaka district at night to enjoy an ancient atmosphere in the heart of Tokyo. Kaiseki is a type of traditional Japanese cuisine. It is characterized by the use of seasonal ingredients, so chefs have to be creative to combine delicacies between dishes.
In the shopping district of Kagurazaka district, there is a famous footwear store that has been operating for 102 years called Sukeroku. Shoes here are very diverse and diverse, especially the clogs, the type often associated with traditional kimonos.
In the past, cords and clogs were sold separately so people could match them to their liking. At this store, we can still buy that way. There are about 500 types of clogs for customers to choose. Buyers can choose the right string for the kimono or suitable for each season. Even the sole has many colors for you to choose.
In Kagurazaka district visitors will discover many restaurants and eateries serving French cuisine. There are about 60 French restaurants and eateries here. From all kinds of luxurious restaurants to popular eateries, they all serve authentic French cuisine. Due to competing with each other, almost every place has its own specialties that make up their own reputation.
Coming to Kagurazaka you can visit a famous French academy and many cultural centers in the vicinity. Kagurazaka has long attracted many French people. Today there are many restaurants serving European cuisine here and French restaurants are also becoming popular.
In Kagurazaka, besides visiting the ancient beauty, visitors can admire the blooming cherry petals along the moat of Edo castle. This is one of the places where cherry blossoms are most blooming in Tokyo. Every year, many people come here to enjoy the cherry blossoms.