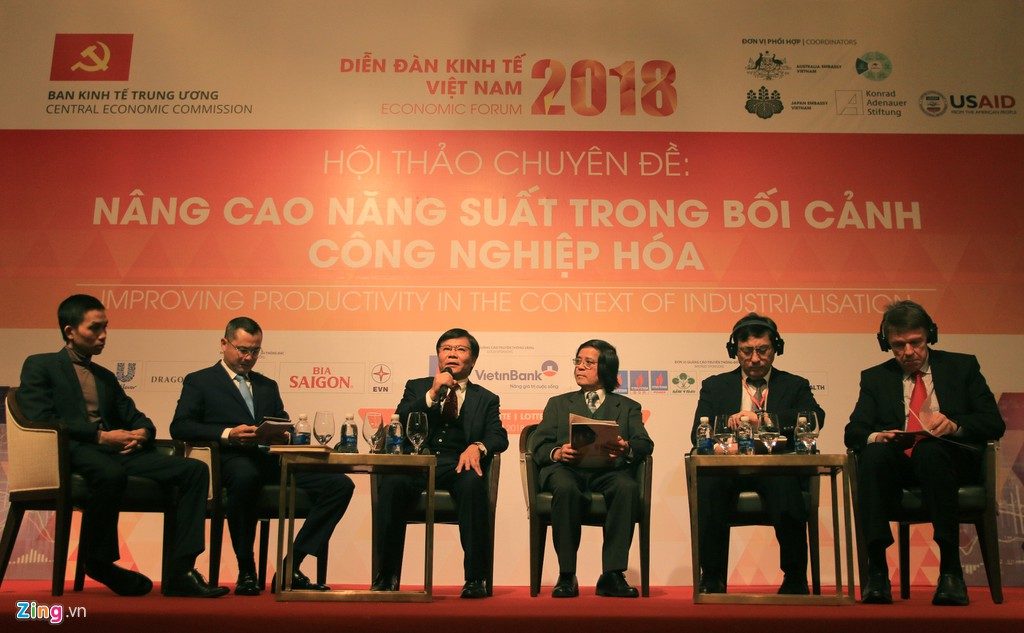 At the Vietnam Economic Forum 2018, the story of Japan's miraculous growth last century was referred to as a lesson for Vietnam in increasing labor productivity.
Vietnam's labor productivity, the importance of productivity, how to increase productivity, and escape the middle-income trap are major topics at the Vietnam Economic Forum 2018 held this morning (11 / first).
The organizers had a separate discussion on labor productivity with the participation of many prestigious domestic and foreign experts, including members of the Prime Minister's Economic Advisory Group such as GS. Tran Van Tho, PhD. Tran Dinh Thien, PhD. Nguyen Dinh Cung … In addition, there is Professor. Kenichi Ohno of the Japan National Policy Research Institute (GRIPS).
'6,000 magical Japanese days'
One of the most noticeable speeches at the forum came from GS. Tran Van Tho, from Waseda University, Tokyo, a member of the Prime Minister's Economic Advisory Group. GS. Tran Van Tho made a speech about labor productivity based on the experience of Japan, which is considered to be the leading experience in the world in increasing productivity in just 20 years.
The story of "6,000 miraculous days of Japan" by Prof. Tran Van Tho cited as a lesson that Vietnam needs to be directed. Accordingly, Japan has had nearly 20 years and about 6,000 days (1955-1973) with an average annual GDP growth rate of about 10%.
'6,000 days of Japan' and lesson to improve Vietnamese image 1
GS. Tran Van Tho, Member of the Prime Minister's Economic Advisory Group. Photo: Hieu Cong.
"6,000 miraculous days" has completely changed the status of Japan in the world, making it a developed country with high income and a prosperous country.
Special thing, according to GS. Tho, before the start of "6,000 miraculous days," Japan's position was quite similar to that of Vietnam today. At that time, Japan's population, economic structure, population structure, and labor structure were quite similar to Vietnam, agriculture still accounted for the majority of labor, low labor productivity.
GS Japan way to increase labor productivity to create miraculous development is also GS. Tho shared. Japan is a latecomer to the West, but has increased its imports of high technology, narrowed the gap, gradually industrialized, improved productivity, and then re-exported technology to the world.
Japan has also restructured its resources: Concentrating resources with high-yield, high-value occupations instead of low-value industries such as agriculture, while increasing the production scale of many industries. high value, high productivity for goods.
Regarding resources, policies on training and qualification improvement were conducted. The productivity of every citizen and industry has been gradually improved.