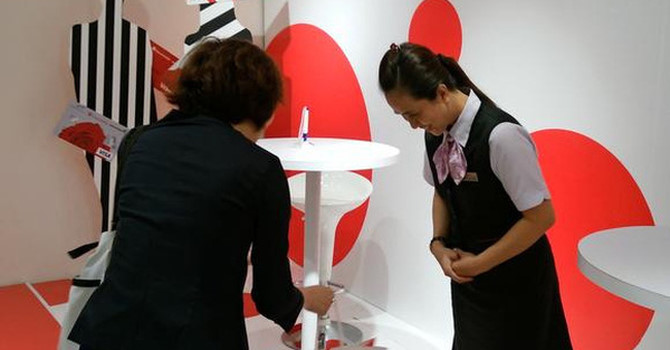 Takashimaya – the 185-year-old department store chain is hoping to use the brand power and the "reputation" of Japanese hospitality to attract Vietnamese consumers.
On July 30, Takashimaya officially opened its first store in the center of Ho Chi Minh City.
Although Japanese goods and the culinary paradise of depachika will be the most attractive to customers, what Takashimaya really expects can be attractive and bring customers back to them with the top-notch service that has been created. echo for this brand.
Prohibit employees from using the phone
Part of the effort to make customer service better that Takashimaya makes is banning employees from using smartphones. The move was unacceptable and even a female officer in Vietnam's education sector warned that workers could quit if they were banned from using phones.
In fact, in Vietnam, most employees are allowed to use smartphones during business hours. However, many employees simply use their smartphones to play games or surf social networks.
After witnessing the staff in a Takashamaya store in Japan, the female officer in the education industry mentioned above changed her mind. She said the store's employees were not distracted by the phone so they could focus all on the customer.
The quality of customer service in Vietnam is generally poor. This is partly because the service industry is still in its infancy: Department stores, shopping malls and other commercial activities have only emerged in the past decade.
Therefore, Takashimaya entered this market with the determination to change the quality of customer service.
The company trains employees to bow to all customers and see if they are important whether they make a purchase or not.
In fact, the bow is a culture that has been practiced and honed by Takashimaya for centuries. Accompanied by the words "Hello" and "Thank you", any Takashimaya employee must place his hands on top of each other, right in front of his navel and bow his head at an angle of 30 degrees.
If not used with words, when greeting customers, Takashimaya staff will bow at an angle of 15 degrees. While bowing, the employee must not look at the customer, but instead focus on the point on the floor 2m in front of the customer.
Not stopping there, the ban on using phones is not the only thing that initially caused Takashimaya employees in Vietnam to protest. Many of their 180 employees didn't like the idea of ​​wrapping all items before shipping them to buyers. These people say this is like the origami art of folding paper and it is very difficult to learn.
However, a Takashimaya leader emphasized the importance of wrapping the item as a gift, saying it is a way of showing respect to the recipient. Currently, most of Takashimaya's Ho Chi Minh City staff are proficient in gift wrap.
The design of the store is also scrutinized to every detail so that customers can feel the hospitality. For example, Takashimaya store aisle is 2.4m wide while it is usually only 1.5m in other stores in Vietnam. Although the wide design will affect the display space of goods, the Takashimaya side said that it makes it easier for customers to find products.
"It's very easy to find goods here," said a customer in his 40s. "Vietnamese retailers tend to cram as many products on the shelves as possible."
Takashimaya Store also provides rooms for nursing mothers, makeup …
The store in Ho Chi Minh City also applies notices inside the store that have the same tone and pace as the Takashimaya store in Tokyo and this helps attract more foreign customers. In addition, for Vietnamese customers who have been to Takashimaya in Japan, this detail gives them the feeling of having a true Takashimaya experience.
Takashimaya's presence in the Vietnamese market is part of a growing trend as many other Japanese retailers are also betting here including Aeon and FamilyMart.
"Not easy to get" market.
Takashimaya is aiming very high in Vietnam but they also face many difficulties. Luxury goods are still out of reach for many Vietnamese people. Other retailers such as Lotte of Korea or Parkson of Malaysia and Trang Tien Plaza have not been successful.
Nevertheless, Takashimaya has decided to bet 6 billion yen (approximately 57.6 million USD) on this game in Vietnam anyway. "I cannot say anything in advance," said Takashimaya president Shigeru Kimoto.
In Vietnam, people often go to the store to see, not buy. To change this habit, Aeon has resorted to a strategy of lowering the price of the product. In general, other retailers want to succeed in Vietnam