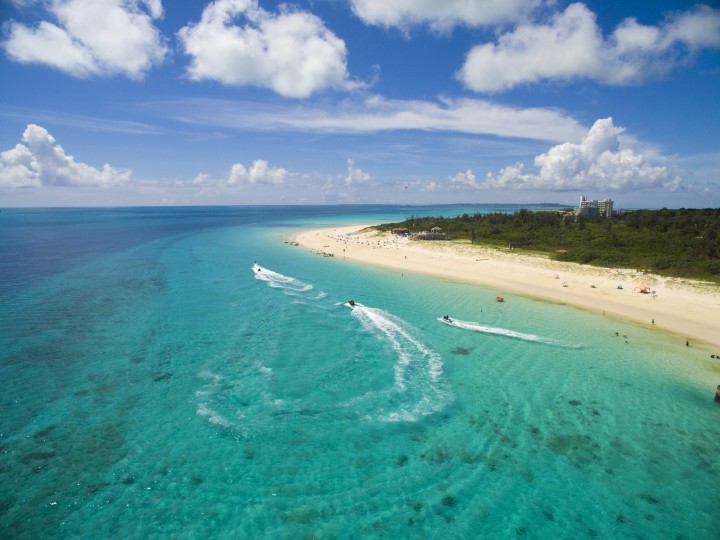 The southern land of Okinawa has always been loved by the Japanese. Among them is Miyako Island, which is always loved by the blue sea. The article will introduce how to experience the island such as beaches, fun activities, dishes, gifts.
Miyako Island – heaven on earth
Miyako Island is located about 300km southwest of the main island of Okinawa, about 1 hour by flight. It is often referred to as the Miyako Shoto island group of 4 separate islands (Ikema, Kurima, Irabu, Shimaji) connecting to the main island of Miyako via bridges, surrounding Tarama islands and Ogami island.
Because no river flows into the sea, with its flat terrain, the sea is famous for its transparency in Okianwa province, which attracts divers from all over the world.
This article will introduce to you about the charm of Miyako Island Sea along with 7 indispensable experience activities that you will want to participate in Miyako Island such as Okinawan cuisine, spreading activities. cultural experience, …
1.Play on the beach rich and unique
The main beach on Miyako Island – Yonaha Maehama Beach
This is the main beach on Miyako Island with white sand so that you will see the blinding stretches about 7km. The clear sea water with the change in the beautiful emerald green color will make you look forever but forget the time.
The "Kurima Ohashi" bridge connects to the island of Kurima on the other side of the beautiful beach.
Yonaha Maehama Beach
Address: 1199 Shomoji Yonaha, Miyako City, Okinawa Prefecture Google Map
Access: 15 minutes by car from Miyako Airport
Sunayama Beach with huge, mystical rocks
The peaceful and peaceful Sunayama beach is a favorite place with a very impressive giant rock. The stone is curved in an arc, the front is a beautiful blue sea.
It is also famous as a beach with a beautiful sunset, the rock illuminated in red becomes even more mysterious.
Sunayama Beach
Address: 705 Hirara Nikadori, Miyakojima City, Okinawa Prefecture GoogleMap
Access: 20 minutes by car from Miyako Airport
2.Experience dive to see colorful fish and corals
Looking for tropical fish at Aragusuku beach
One of the sports that you should experience when coming to Miyako Island is snorkeling. At Aragusuku Beach in the east, you can find colorful tropical fish such as clown fish …
The beach here is quite shallow and gentle so it is suitable for accompanying children. You can also use the dressing room and fresh water bath for free. At the beach, you can also borrow diving masks and propellers, so you can come here without having to bring anything.