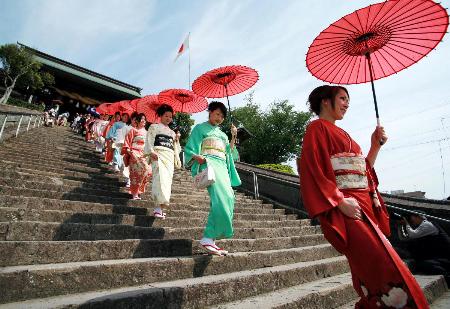 The Wagasa write 和 伞 Japanese are traditional portable umbrellas made of bamboo, oil and Japanese paper.
Wagasa is made of renewable materials that are very environmentally friendly, but creates the simple, elegant beauty of ancient Japan. Today, when buying a Japanese umbrella most people just see it as a work of art, if preserved and used carefully, this umbrella can extend its life to about 20 years. Not only for rainy days, Wgasa umbrellas can also protect users from UV rays in the summer.
Wagasa umbrellas are usually made of oiled paper with over 30 spokes compared to existing umbrellas with 8 spokes, and weighing quite a lot of fine stages right at the stage of pickling, also need precision. are evenly mixed to create balance and aesthetics, usually the artisans take months to complete Wagasa. The motifs on Washi paper often revolve around themes of flowers, birds, beautiful faces, or old tales. with various colors and highlights.
That is for Wagasa to use shading, and Wagasa to cover the rain needs to undergo waterproofing for Washi paper, the artists spread vegetable oils on the paper.
Wagasa is also divided into several categories based on the style and setting of birth:
Janomegasa (Snake eyes): This umbrella is usually designed with a canopy with a white ring in the middle when viewed from the top like a snake's eye, around the white circle is paper that dark blue or red should be girls very popular
Maigasa (Parachute dance): This type of umbrella is characterized by colorful, gaudy, gaudy, light weight, easy to use, mainly used for shading, so it is often used in performances. .
Bangasa: This parachute is designed to be sturdy, decorative pattern on paper suitable for men's wear, this umbrella is most popular among Wagasa's.
Nodategasa: This is a large umbrella often used in decoration in inns, temples, temples, in traditional festivals, or in Japanese tea ceremonies.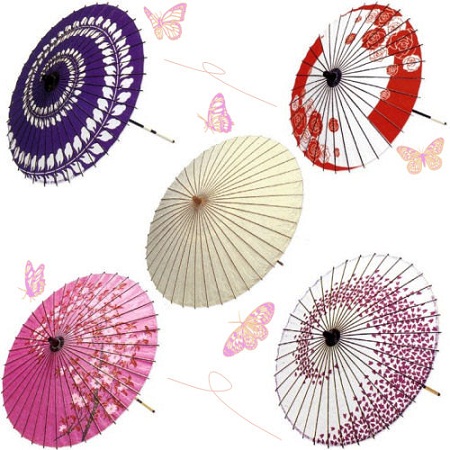 Made primarily of paper and bamboo, the durability of Wagasa is not very high, the quality of images or patterns also fade over time, so when using, avoid direct sunlight and let it dry. cool dry.
With the information provided by Minh Duc gift umbrella company, it is hoped that customers will collect many interesting things around the advertising umbrella product.