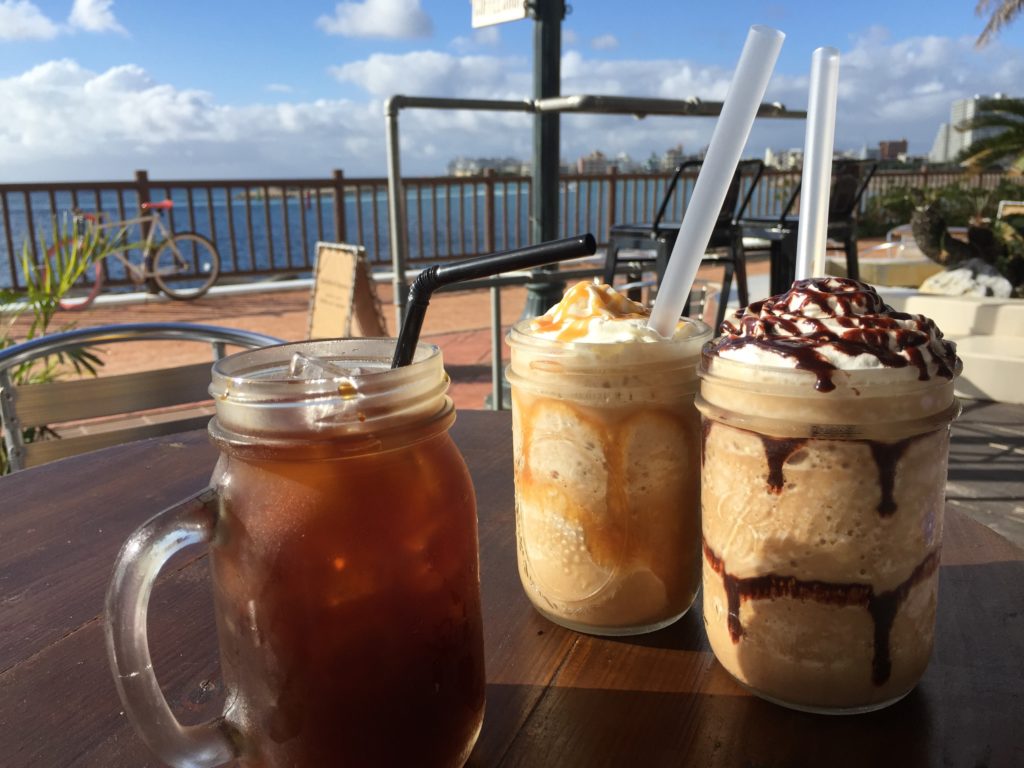 [1] OOLOO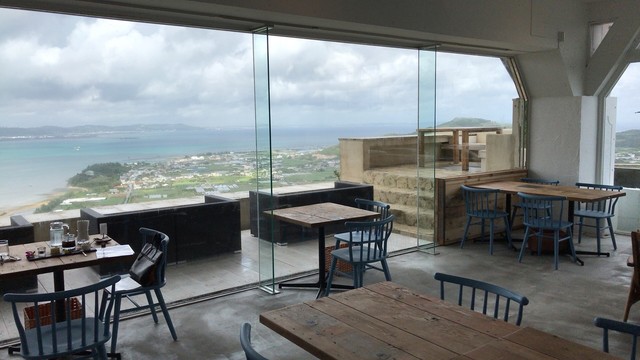 Tenku OOLOO terrace in southern Okinawa is a sky cafe overlooking Nakagusuku Bay.
"OOLOO" means black and blue in Okinawan. The outdoor terrace seats have ocean views and you cannot hide your astonishment in the breathtaking scenery in front of you.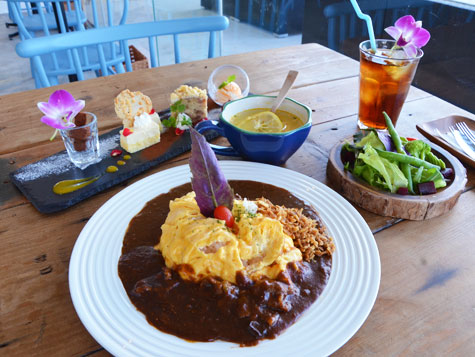 Japan OOLOO offers authentic local specialties and sweets. In addition to fish lunches and meat lunches, there are a range of dishes such as curry rice, egg rice and pasta. You cannot miss desserts that you can enjoy with your eyes.
OOLOO
Address: 1663 Tsukishiro, Nanjo City, Okinawa Prefecture
Phone: 098-943-9058
[2] Hamabe no Chaya
Hamabe no Chaya Handmade Cafe is delivered in front of the sea. As long as you look at the entrance, can you really see the sea? But if you go downstairs and into the store, the view from the window is the sea! This is a great look. At low tide, you can walk down to the beach when you go down the stairs. And at high tide, it's the best environment where you can be healed by the sound of the waves and feel the ocean so close.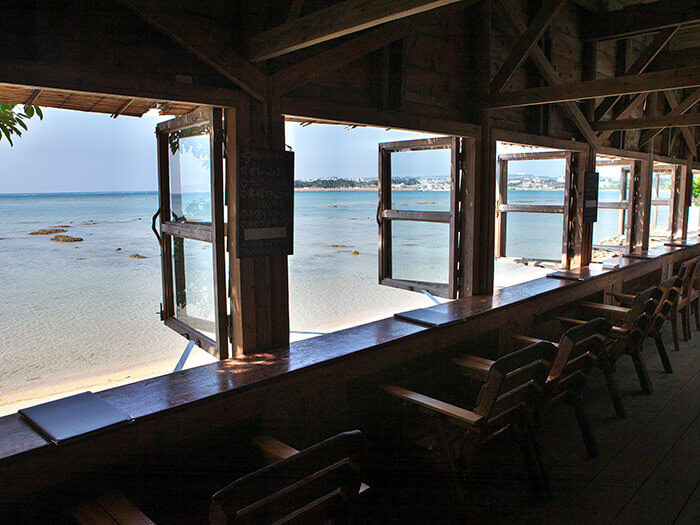 At Hamabe no Chaya , you can enjoy dishes using ingredients from Nanjo City, our original blended coffee and sweets like cheesecake.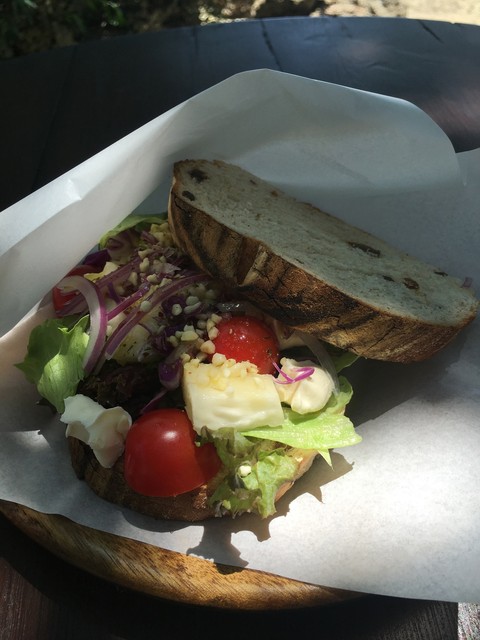 Chaya
Address: 2-1 Tamaki, Tamaki, Nanjo City, Okinawa Prefecture
Phone: 098-948-2073
https://www.okinawastory.jp/gourmet/600007662
[3] Cafe Yukuru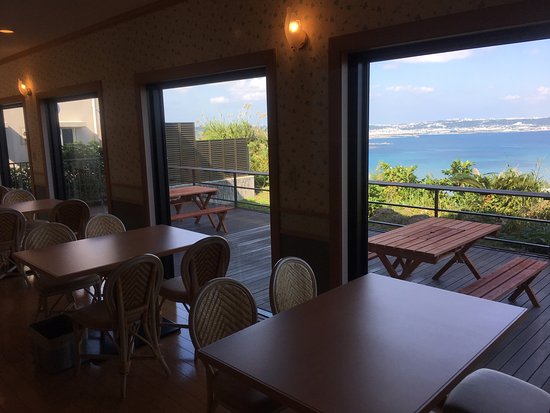 Cafe Yukkuru Cafe in Nanjo City in southern Okinawa is a cafe with great views overlooking Nakagusuku Bay. From the terrace seats, you can enjoy a wonderful view. Yukkuru Gyoen uses lots of Okinawan vegetables and the season is a healthy dish. You can choose ten grains of rice and it's a healthy menu.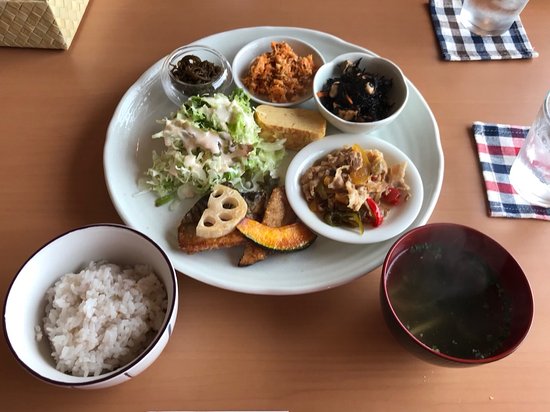 The vegetable curry Uumina Curry Curry has a spicy and deep flavor. There are also sweets like mango cakes and banana bread, as well as drinks like organic coffee.
Cafe Yukkuru
Address: 1663-9 Tsukishiro, Nanjo City, Okinawa Prefecture
Phone: 098-975-5966
[4] Yama-no-Chaya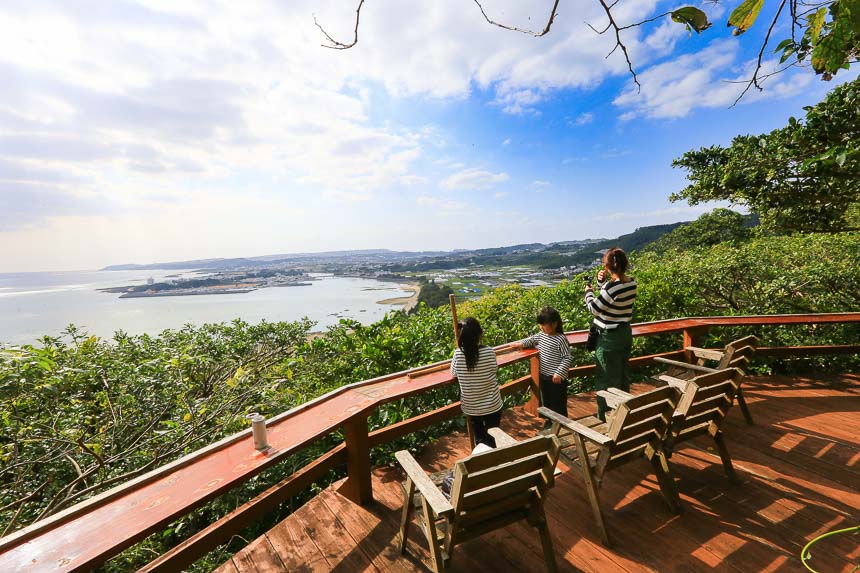 The beach's sister shop is introduced in [2]. It's a house cafe standing on the mountain, walking up the stairs made of limestone. From the seats on the second floor, you can enjoy the breathtaking view of the blue sea right in front of you.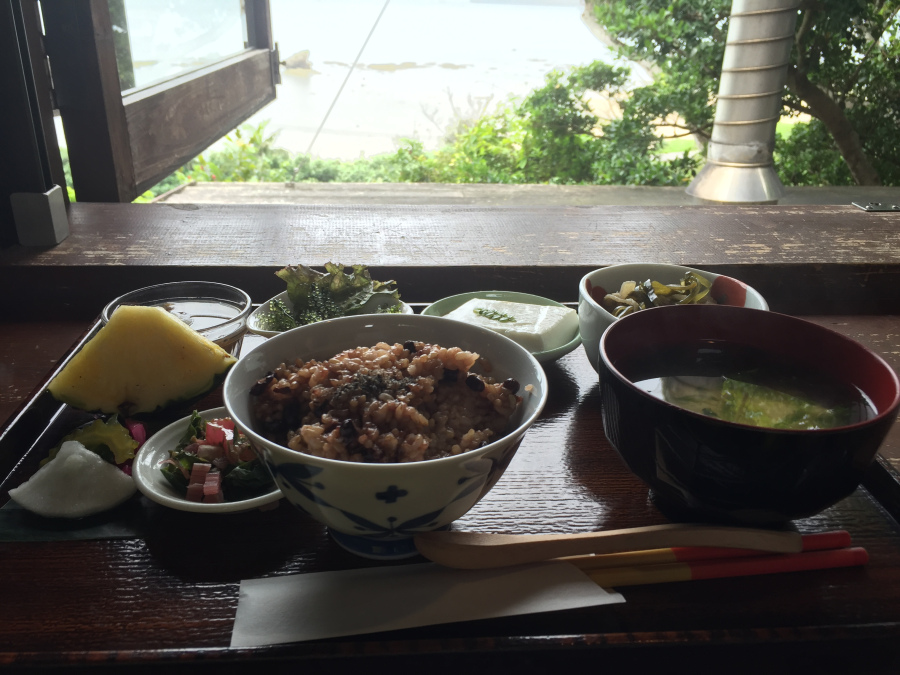 Yama no Chaya has a unique structure and the store walls use natural limestone. At the natural Yama no Chaya restaurant, you can enjoy a natural meal with fresh local vegetables.
Yama-no-Chaya
Address: 19-1 Tamaki, Nanjo City, Okinawa Prefecture
Phone: 050-5872-7110
http://yama.hamabenochaya.com/
[5] Happy Pancake Umikaji Terrace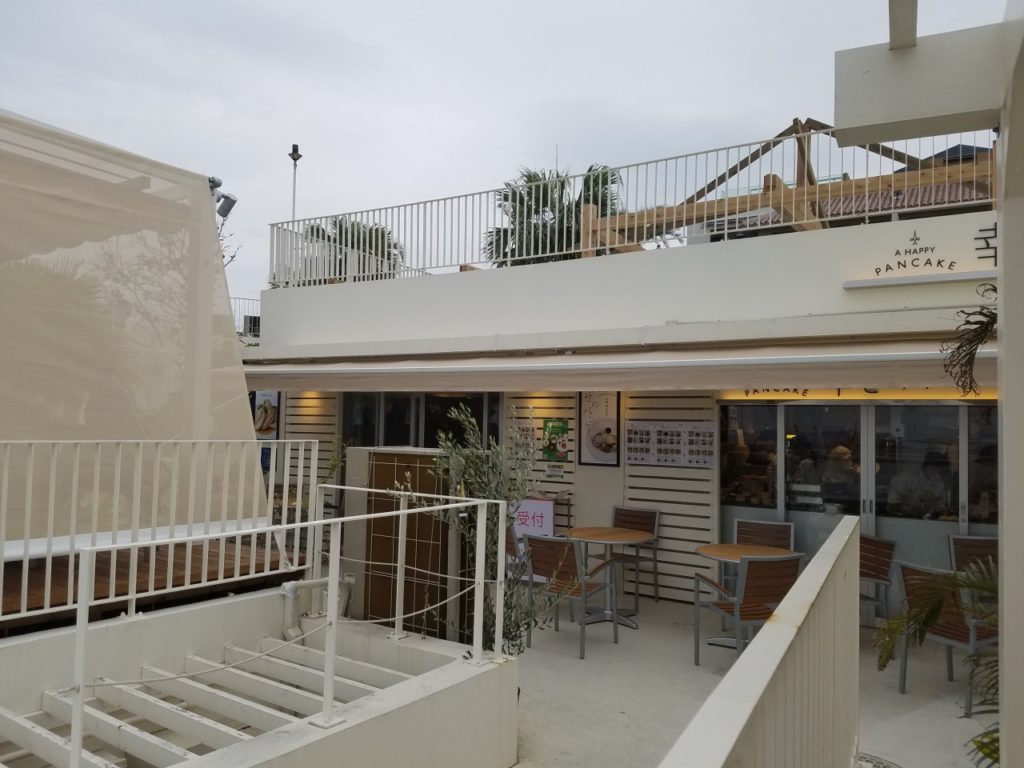 Pancake specialty store "Happy Pancake" is a hot topic on TV and magazines. In 2017, we chose the upper Umikaji area on Senagajima, near Naha airport. Umikaji Terrace is a commercial establishment reminiscent of a Mediterranean resort, with less than 50 shops, cafes and restaurants. From the Happy Happy Pancake's rooftop terrace, you can enjoy the unobstructed view of the ocean front.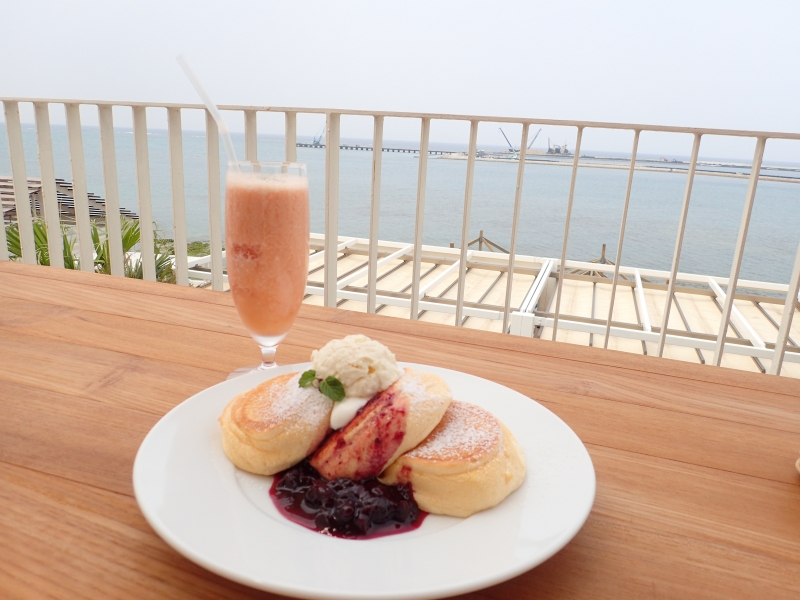 The world's softest and moistest pancakes are known to be happy to put in their mouths. The secret to appetite is due to the careful selection of ingredients and baking over time. The great view while having a sponge cake is the best luxury.
Happy Pancake Umikaji
Address: 174-6 Senaga, Tomigusuku City Umikaji Terrace 32
Phone: 098-851-0009
[6] Tipi Cafe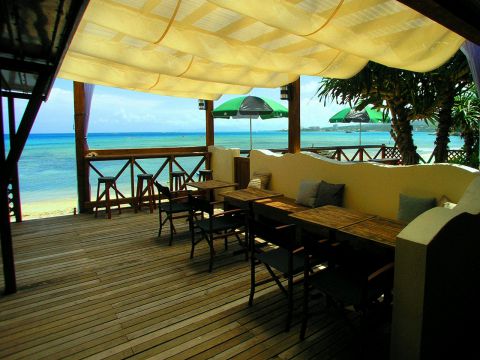 Located next to Malibu beach, this café offers views of the ocean. Especially the terrace seats right in front of the sea, so you can dine while feeling a pleasant sea breeze. You should book early as it's popular.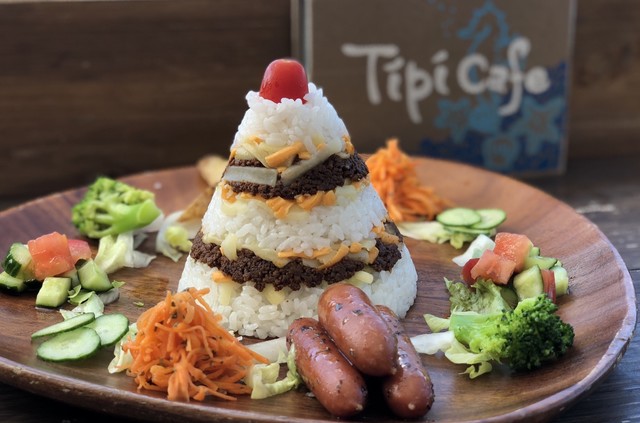 What I want to notice in the menu is Tip Tipi Taco Rice, which has a great visual impact. Taco rice, a Okinawan soul food, is served with the motif of an Indian tent.
Tipi Cafe
Address: 3088-1 Yamada, Onna Village, Kunigami-gun, Okinawa
Phone: 098-982-5605
https://www.aruguide.jp/tipi_cafe
[7] The cafe on the coast of Hanon
Pancake specialty store in American Village in the town of Mihama Chatan. The store is located on the second floor facing the sea and the terrace on the terrace is the best location overlooking the sea. The white and blue interior of the Greek island of Santorini is perfect for the ocean of Okinawa. The menu is mostly pancakes.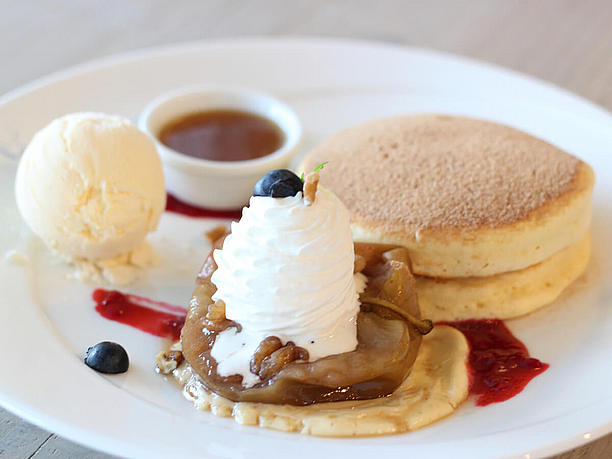 There are also meal-style pancakes and a children's menu so you can enjoy it with your family. The good thing is that there are many drinks menus! It is also recommended for unexpected celebrations, as it will facilitate a small celebration.
Hanon beach cafe
Address: 9-39 Mihama, Chatan-cho, Nakagami-gun, Okinawa Oak Fashion Building B-3
Phone: 098-989-0653
http://cafe-hanon.com/gallery.html
[8] Jibago Coffee Works Okinawa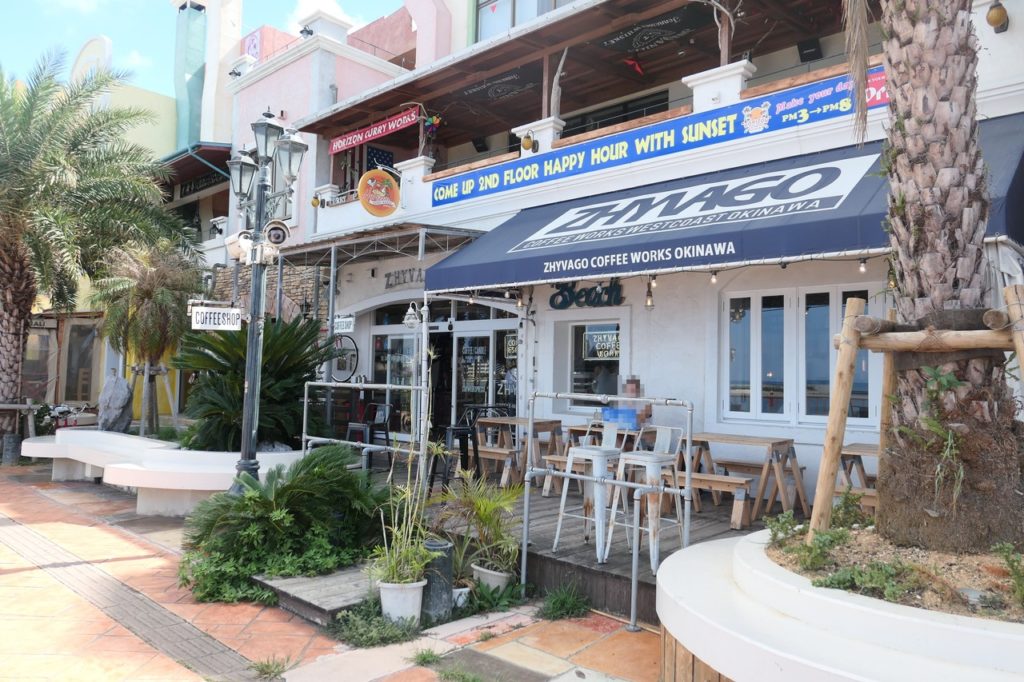 A cafe on the first floor of Mihama American Village, where you can enjoy a cup of coffee. Located along the sea, you can see the sea from a fashion store with a unique worldview.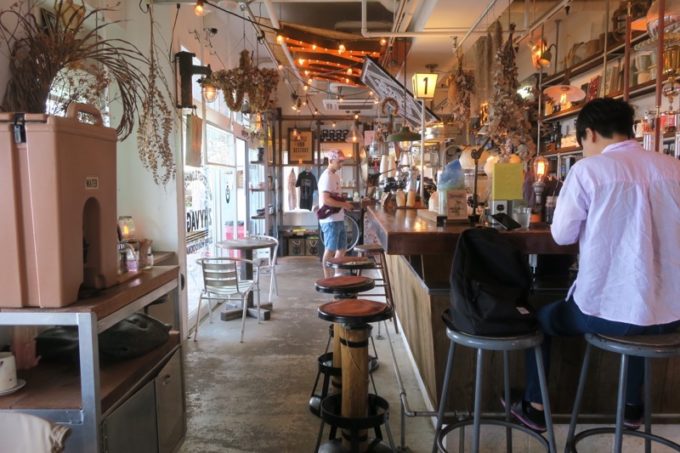 The store is small, but there are also seats on the open rooftop, perfect for spending half a day completely relaxing! Perfect for resting and shopping. In addition to coffee that can be brewed carefully, it also has a great selection of coffee sweets.
Jibago Okinawa
Address: 9-46 Mihama Chatan Town, Nakagami-gun, Okinawa Distortion 1F Beach Building
Phone: 098-989-5023
http://zhyvago-okinawa.com/
[9] The Jungrila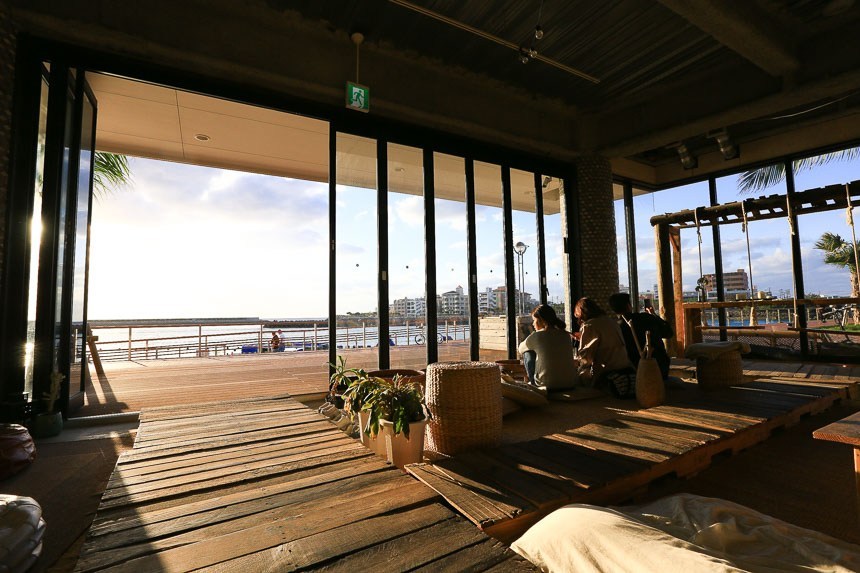 A cafe on the first floor of Makai Resort in Mihama Chatan Town. The opposite seats are swings, and the floor is covered with sand. It's facing the ocean and is open enough to forget you're in the room when you open a large window.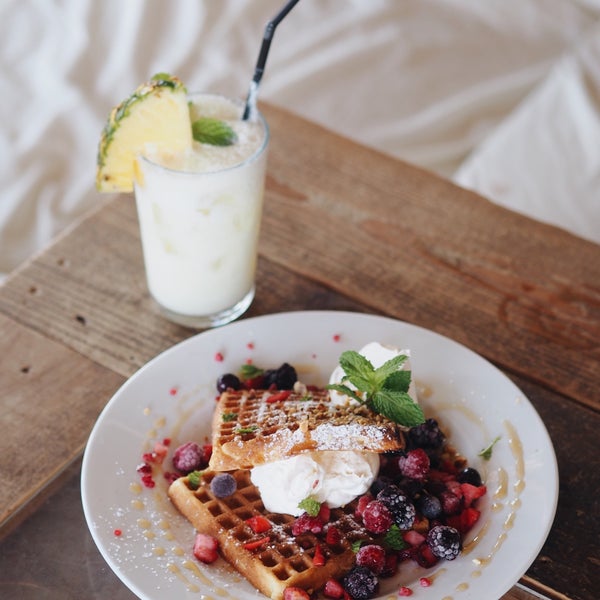 The international cuisine made by a chef from a famous hotel makes you feel special about it. Since it is open late at night, it is good to enjoy the night atmosphere while drinking alcohol.
The Jungrila
Address: Makai Resort 1F, 54-1 Mihama Chatan-cho, Nakagami-gun, Okinawa
Phone: 098-936-2118
https://www.instagram.com/the_junglila/
[10] WaGyu-Cafe KAPUKA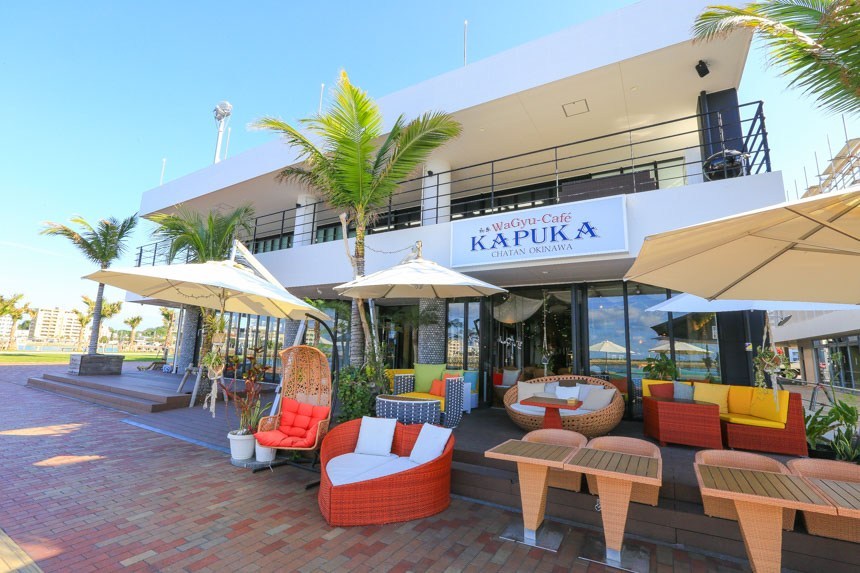 A beachfront cafe right next to the Hilton Okinawa Chatan Resort. Open terrace with panoramic ocean view makes you feel like you're on vacation. As the restaurant's name is Wagyu Cafe, the meat used for cooking is carefully selected from the rarest domestic beef that the owner thinks is delicious.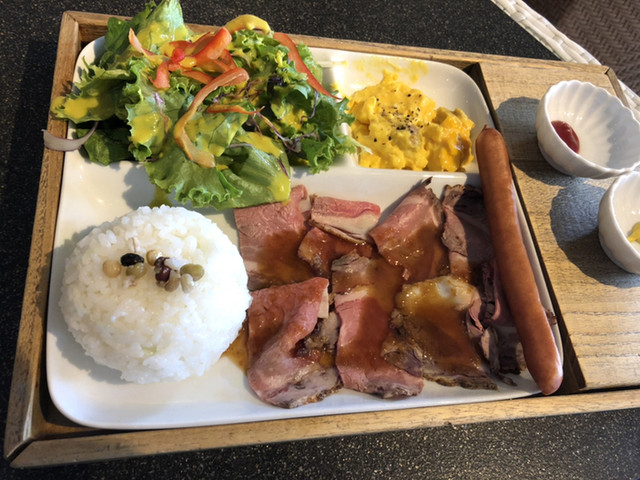 Dinner time where you can enjoy a meal while watching the sunset is fine, but it is open from 9am and brunch is also recommended. Salad Salad Ball branch is an entertaining dish consisting of grilled beef. And delicate "roast beef" with crispy croissants and tender roast beef.
Cafe Wagyu Kapuka
Address: 51-1 Mihama Chatan-cho, Nakagami-gun, Okinawa Prefecture Makai Resort Chatan 1F
Phone: 050-5595-1944
http://wagyu-cafe.com/