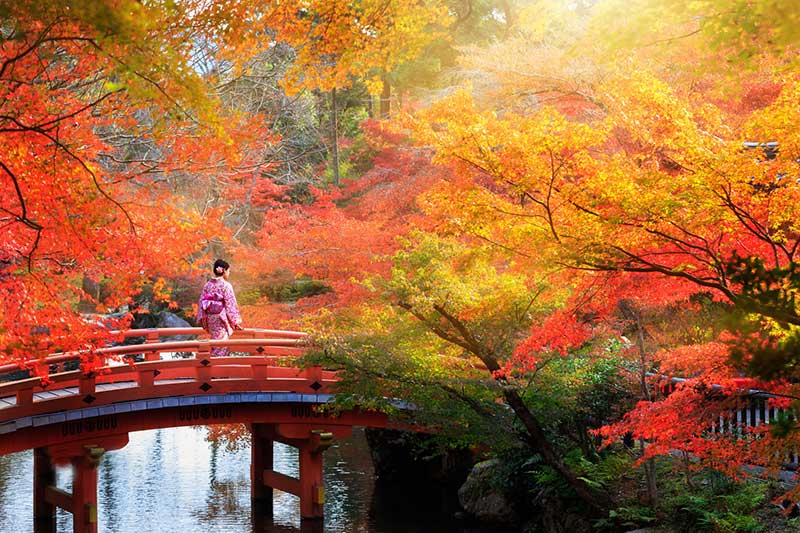 It is a period of quite pleasant weather, cool no sudden rains, so the trip to Japan in November will bring you the sweetness of autumn scenery, joyful excitement. of the festivities taking place during the month.
In November, almost all regions of Japan have extremely cool weather, when the maple leaves and almonds have completely turned to yellow and red. The snow has scattered in the north, which is very convenient for sightseeing, enjoying the fresh autumn weather, especially the hot spring bath experience (Onsen bath).
Traveling to Japan in November, you will not be surprised when everywhere is immersed in the autumn colors from parks, gardens, roads to temples, … this is also the time when Japanese tourists have the opportunity. Watch each scene of the leaves swaying in the wind, signaling a new season for changing leaves.
Design Festa, in Tokyo
A big event for artists, designers, craftsmen, street artists and musicians takes place in early November. Joining this event on a November trip to Japan is an opportunity. Great for your exposure to the creative talent of Tokyo city.
Meiji Shrine Autumn Festival, Tokyo
This is one of the Japanese fall festivals that attracts the attention of so many people. The event took place in the first 3 days of November with performances about Japanese culture, with the participation of leading artists in the arts, including activities such as archery horseback riding. Yabusame, Sumo kick-start ceremony,….
Karatsu Kunchi Festival, Karatsu
Taking place from 2 – 4/11, in a small town Karatsu. It is a parade of ancient processions from the 1800s with a weight of up to 3 tons. A special feature of Karatsu Kunchi festival is the challenge in pulling the moving car to the beach of the town.
Sumo Kyushu Basho (November 13 – November 27), in Fukuoka
Sumo Kyushu Basho is the last of the year for the Sumo Sports Village of the six tournaments held throughout the year held in Fukuoka town. When traveling to Japan in November, you will have the opportunity to witness professional Sumo athletes compete against each other in harmony, cheering extremely passionate and enthusiastic.
Shichigosan children festival
A Japanese ritual for children is held in mid-November, when the "lucky" babies are held at Shinto Shrines. This is a milestone and the first occasion for babies to wear traditional kimono or ceremonial attire. So if you travel to Japan in November, you will easily catch babies in colorful, beautiful Kimono costumes anywhere.