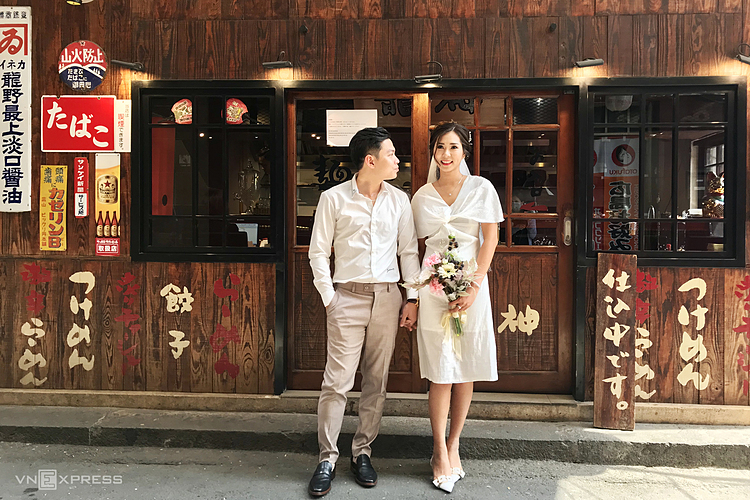 In the 2000s, Japanese people came to Ho Chi Minh City to work and live in a foreign community – dubbed "Little Japan".

Alley No. 15B Le Thanh Ton Street (District 1) 20 years ago, there were only a few Japanese restaurants. Opposite this alley are high-class apartments where Japanese experts and businessmen live. Over time, shops around here have sprung up to serve expatriates, forming a "Little Japan" in the heart of the city.
Later, Ho Chi Minh City had another smaller Japanese community living on Pham Viet Chanh Street, Binh Thanh District. From this area to factories in Binh Duong, Dong Nai is closer to the center.
Today, "Little Japan" has expanded into a neighborhood of 300 m Le Thanh Ton Street, connecting to Thai Van Lung, Thi Sach and Ngo Van Nam streets. The restaurant is close to the big road, crept in the corner. "Special" of Japanese street cuisine is the country of cherry blossoms, pubs, coffee, hotels, convenience stores, spas, massage parlors. Signs written in hieroglyphs, red lanterns, and wooden doors make visitors lost in somewhere in Japan. 8A Thai Van Lung alley in the Japanese street is full of bright lights that attract the attention of visitors right from the big road.
Alley 8A Thai Van Lung in the Japanese neighborhood lights up brightly. Japanese Street becomes a popular dining and entertainment destination for "Sunrise" travelers to Saigon.
If West Street and Malay Street are bustling with shops opening wide, playing loud music, even people sitting on the road, Japanese Street is the opposite. No crowded scenes, passing customers only heard footsteps, voices, greetings. Stumbling sounds, sounds of cooking, eating, laughing will lie behind a curtain, closed.

Most restaurants in "Little Japan" are open by Japanese people. The owner may be a resident of Vietnam, some still living in Japan and leaving the Vietnamese to manage the business.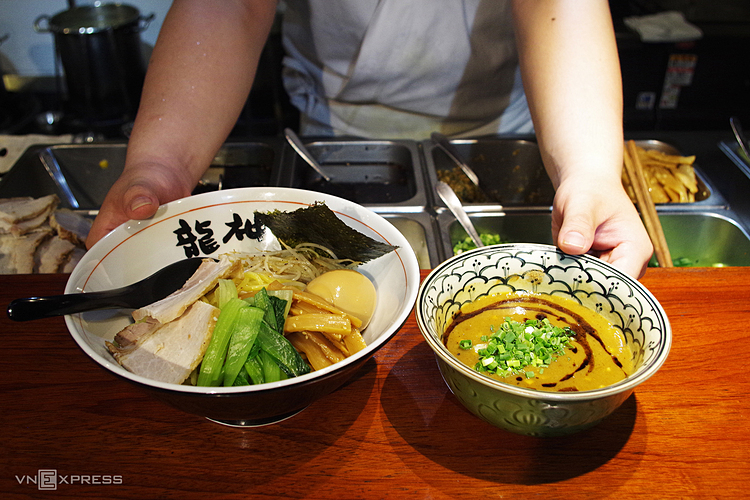 "The owner is a Japanese chef who came here to open a restaurant, taught the brothers here to cook, but not many people go to Japan to study professionally," said Diep Nhat Huy (21 years old), the cook of a ramen noodle shop in alley 15B Le Thanh Ton, share.
The shop space at "Little Japan" has a simple, cozy and bold style of Japanese culture, not the scale and luxurious decoration like some Japanese restaurant chains invested by Vietnamese in the city. .

Stepping into a ramen restaurant at dinner time, diners can hear the slurping noodles and the sound of sizzling noodles from the kitchen behind the bar. Famous for the polite standards on the table but when eating, Japanese people have a different noodle culture. They think that making a sound when eating is an act to express the appetite of customers. "Since I was young, my family ate like this, so it became a habit. When I picked up hot noodles, blew it lightly, but I put it into my mouth," a Japanese customer happily replied after finishing the bowl of noodles.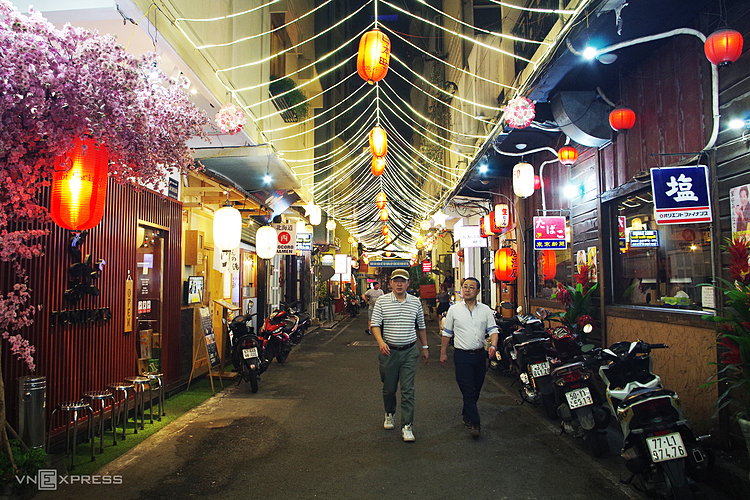 Ramen noodles are a popular dish in the neighborhood, with an average price of 100,000 VND per bowl.
Ramen is a popular dish in the Japanese neighborhood, with an average price of 100,000 VND per bowl. Some ingredients at the restaurant, such as spices, noodles, pickled vegetables, are usually from Japan, besides fresh local foods, making the dish not too misaligned.

The Japanese who work permanently in Ho Chi Minh City often live around "Little Japan". Most rent a budget, and prefer serviced apartments in hotels or apartments. The hotel room is like a mini apartment, fully equipped as kitchen counter, refrigerator … from about 500,000 VND per night.
Restaurants in Japanese streets are open to customers according to a certain time frame based on the pace of residents. According to a hotel receptionist in the alley 6C2 of Thai Van Lung street, the Japanese usually wake up to work from around 6am, the company bus to Dong Nai, Binh Duong. Around 19h – 20h, they return home, go to eat and drink until 10pm to return to their rooms. For those working in the city center, they only visit during lunch time. On weekends, they often organize dating friends at the pub.

"Japanese people who live in Vietnam often go to restaurants around here. They go to work from morning to night, wear all of their shirts to finish their meal," said a restaurant employee.
During the day, the neighborhood becomes a studio because there are many people come to film, take pictures.
During the day, the neighborhood becomes "movie studio" because there are many people come to film, take pictures.
Coming to the Japanese corner between Saigon, visitors will have different experiences depending on the time. During the day, the quiet town is a place to visit and take photos of many young people. The restaurants open at noon usually from 11am to 2pm. "Little Japan" is only bustling from 17:00, with the words "Irasshaimase" (meaning "Welcome!" Continuously resounding in the small alley. until 1am.