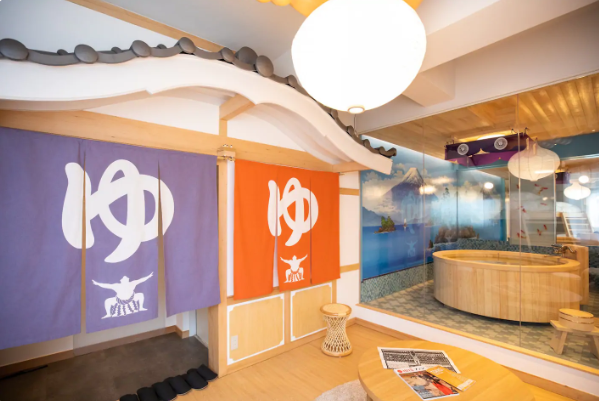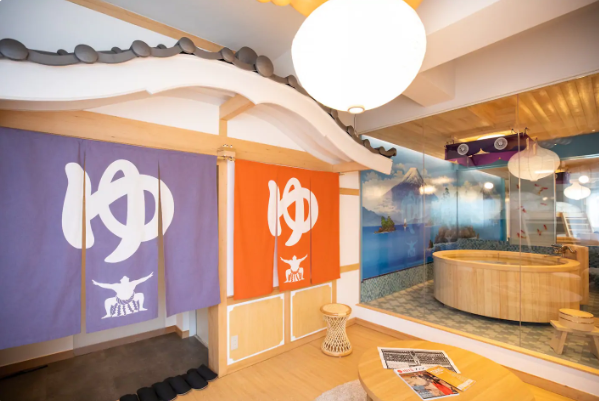 Asobi Systems' MOSHI MOSHI NIPPON project, which aims to spread and promote Harajuku's kawaii pop culture throughout the world, launched a unique and very popular Airbnb apartment in 2018 called MOSHI MOSHI ROOMS. As we introduced on grape Japan, its first room had a cherry blossom theme, and its second one in 2019 was inspired by Japan's famous paper-folding art of origami.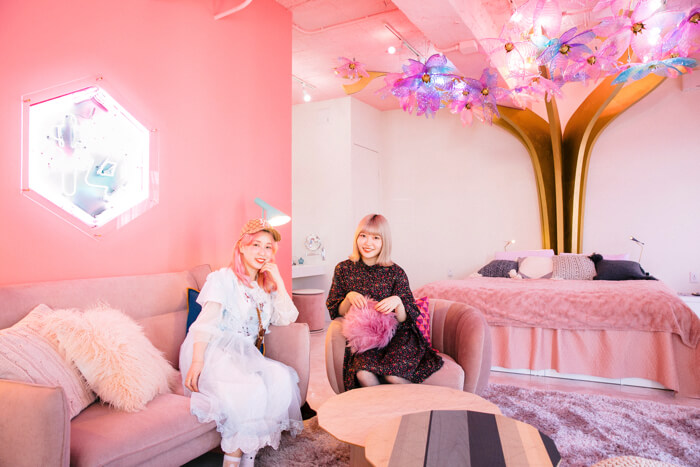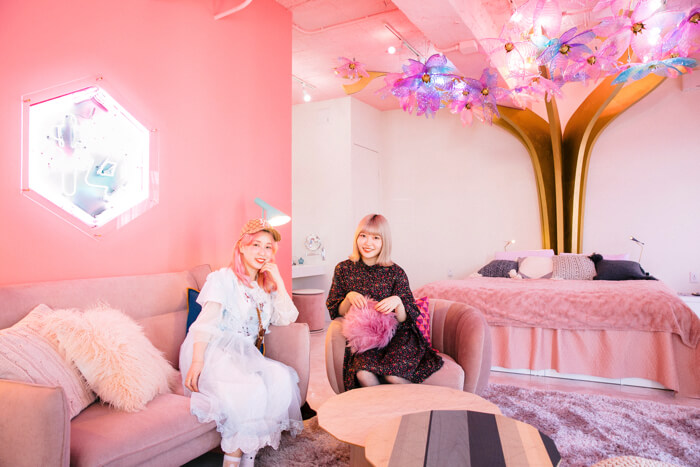 Now, for its third offering, MOSHI MOSHI ROOMS brings us DOSUKOI, a room inspired both by sumo wrestling and sumo culture, on the one hand, and sento 銭湯 public bathhouses, famous for their casual mood and their walls often painted with images of Mount Fuji and other traditional motifs.
MOSHI MOSHI ROOMS: DOSUKOI
Features like a giant sumo wrestler's hands and a bath area with a large cypress wood bathtub and a painting of Mount Fuji create an extraordinary world view.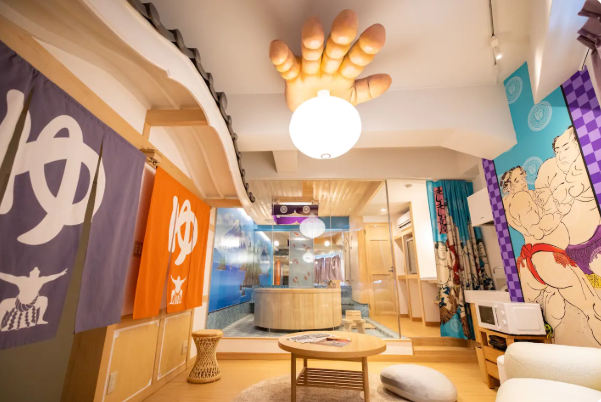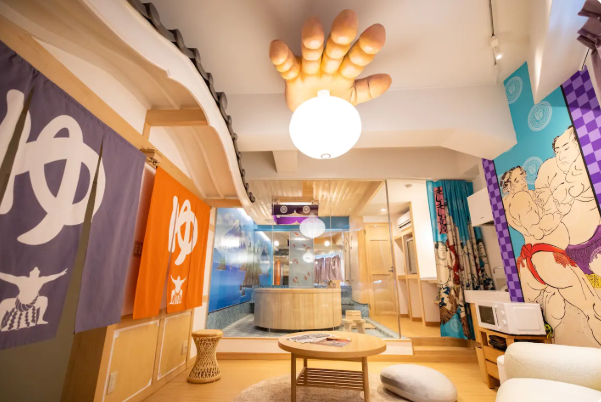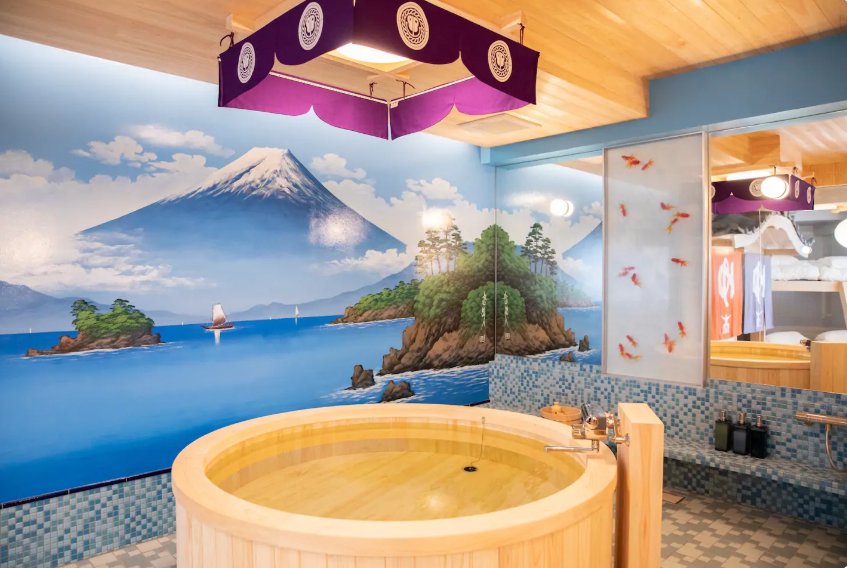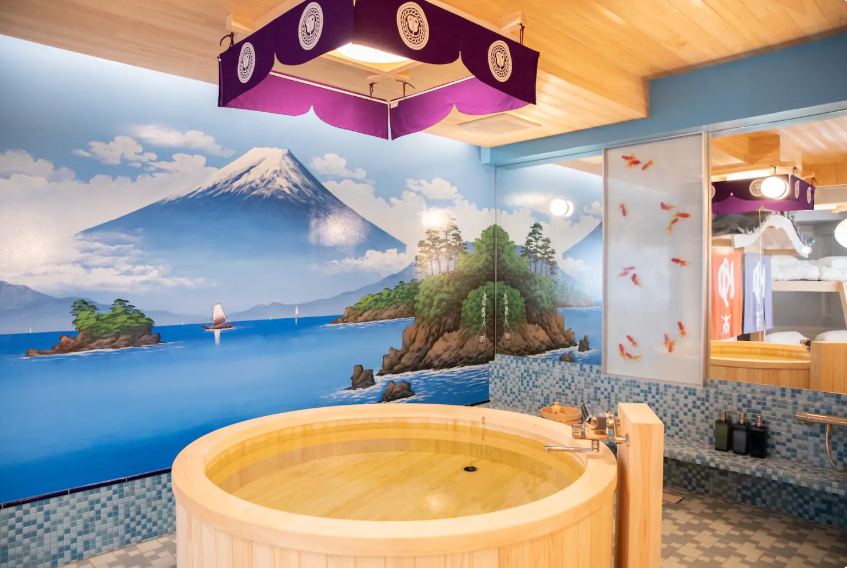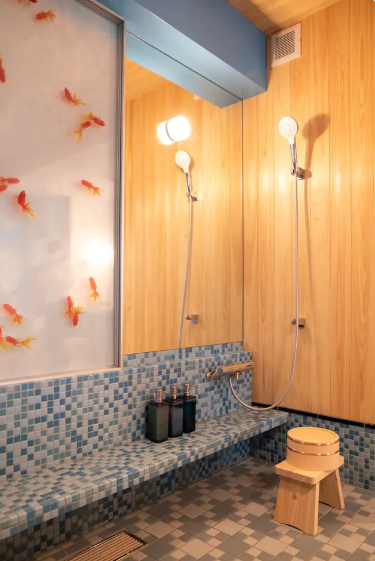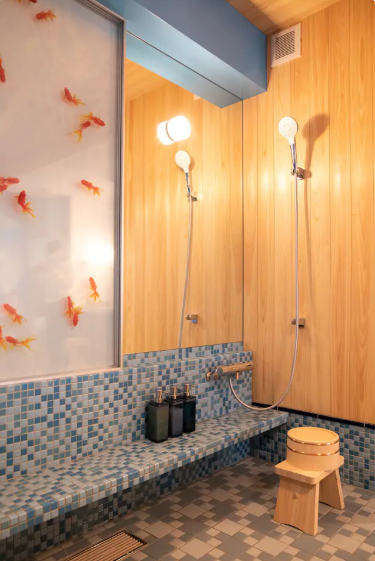 You'll appreciate the bold design from the entrance to the living room and the public bath space. Not only a fun place to stay with your friends, it's also a good option for families with young children who can enjoy the public bath in a safe, comfortable and fun environment.
The lights represent sumo wrestlers' tsupparite hand thrusts and the furniture has beige and white accents, the same colors as the sumo ring.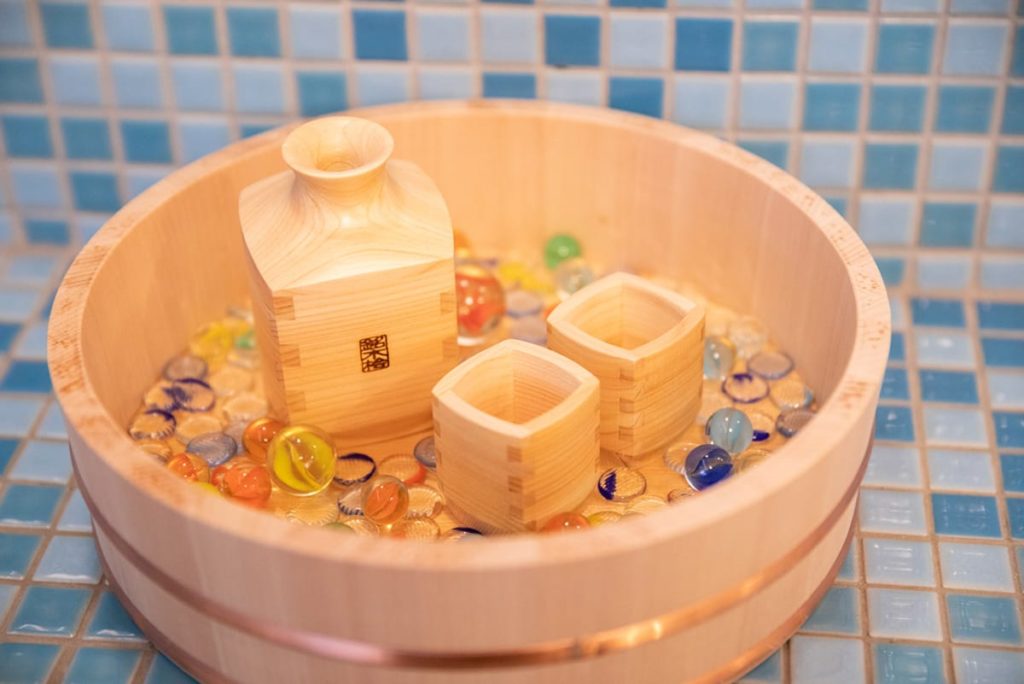 The beautiful cypress wood bathtub is spacious enough for up to five guests and bath salts are available for guests who desire them. Above, you'll see a square canopy-like curtain just like the one draped from the giant raised roof suspended over the sumo ring at a sumo hall.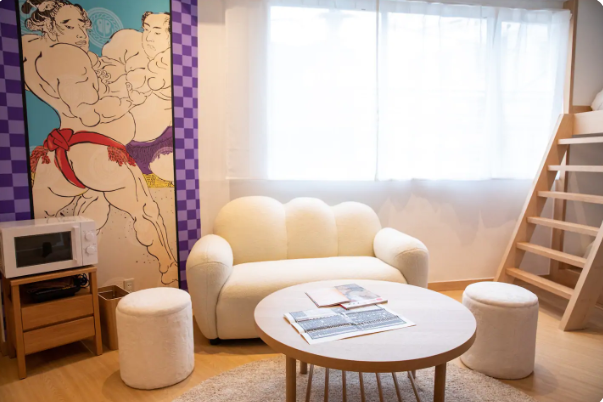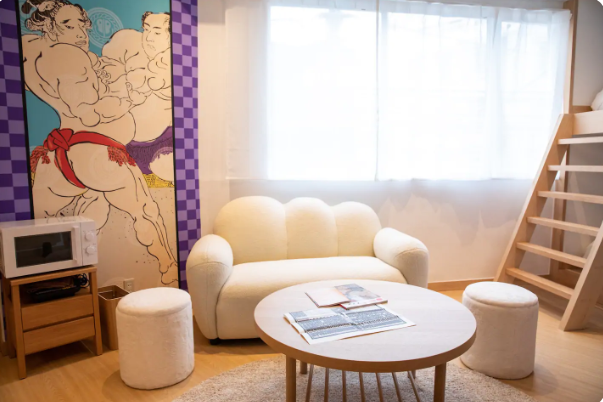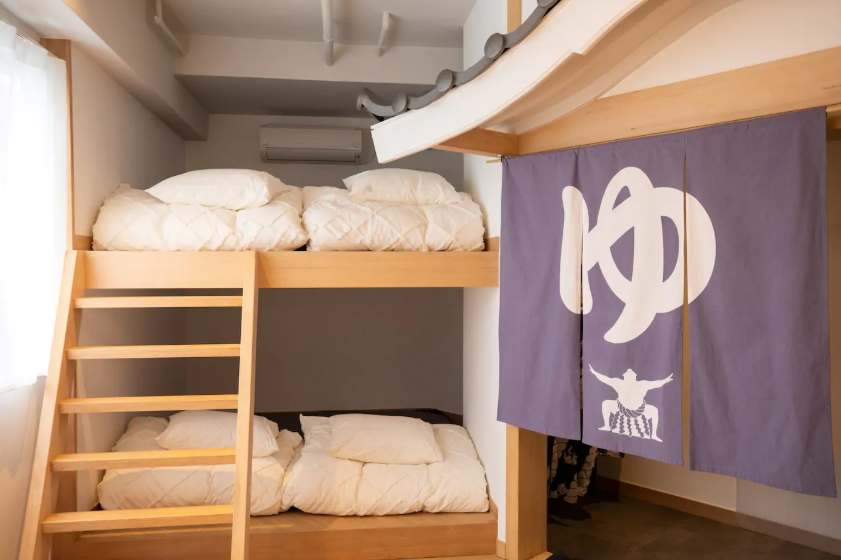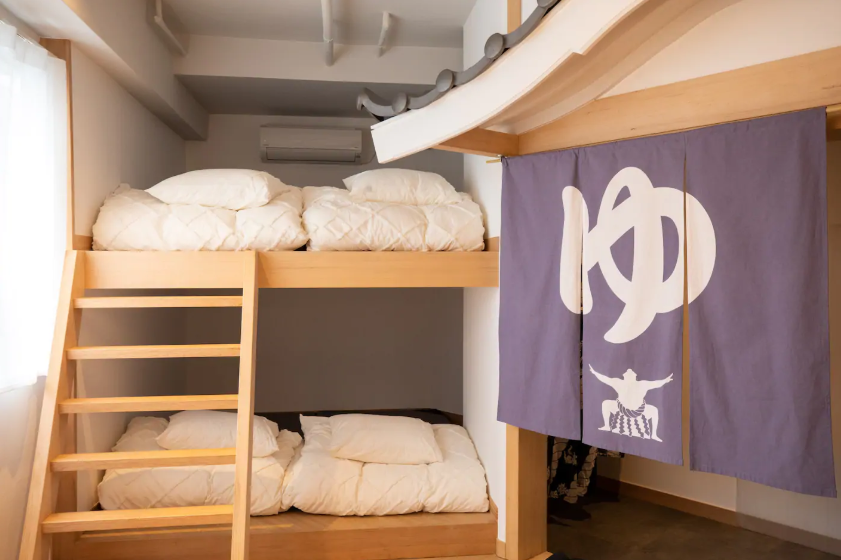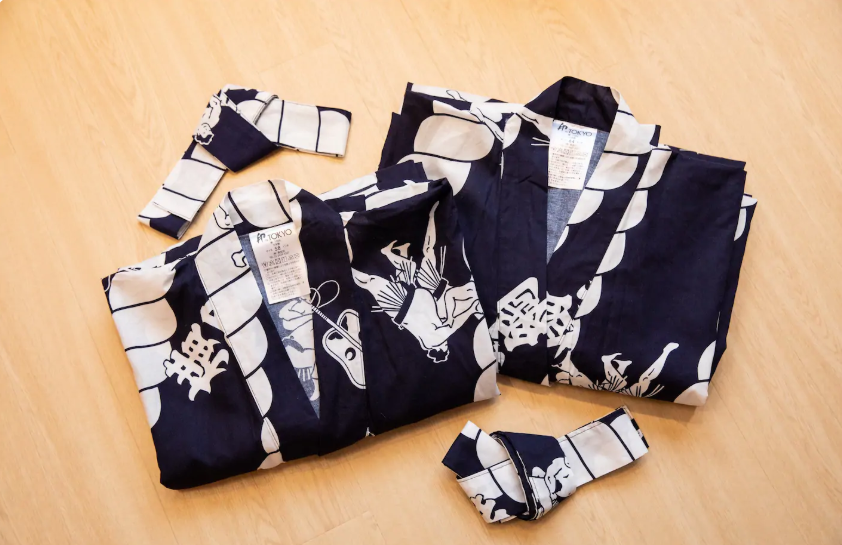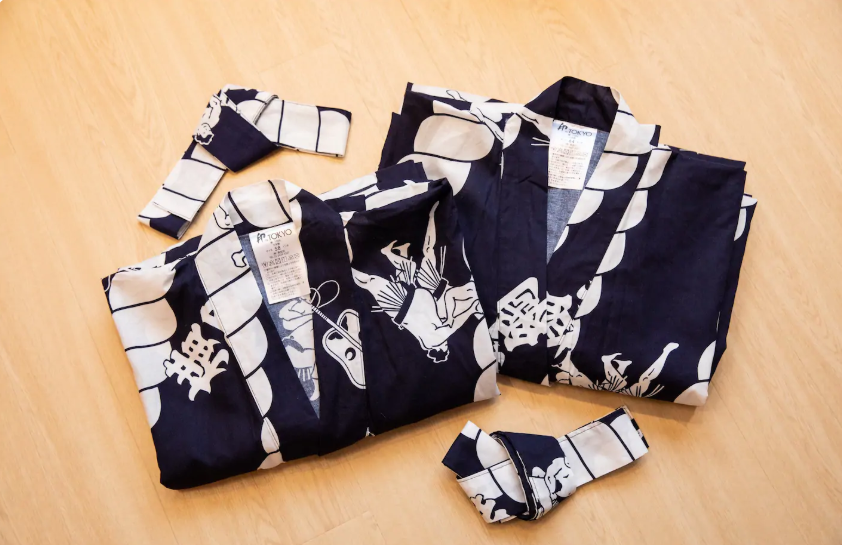 Each of the bunk beds has two single beds, and up to 5 people can be accommodated by combining storage beds.
Address: 2-18-7 Jingumae, Shibuya, Tokyo
Access: 8 minutes on foot from Meiji-Jingumae (Harajuku) Station via the Chiyoda and Fukutoshin lines.
Occupancy: 1-6 people
Price: ¥40,000 (does not include handling and service charges)
*1 room 1 night (subject to change depending on the period)
Website: MOSHI MOSHI ROOMS
https://www.airbnb.com/rooms/42243216?source_impression_id=p3_1584086674_jjke9Pg14nCsh7Xt